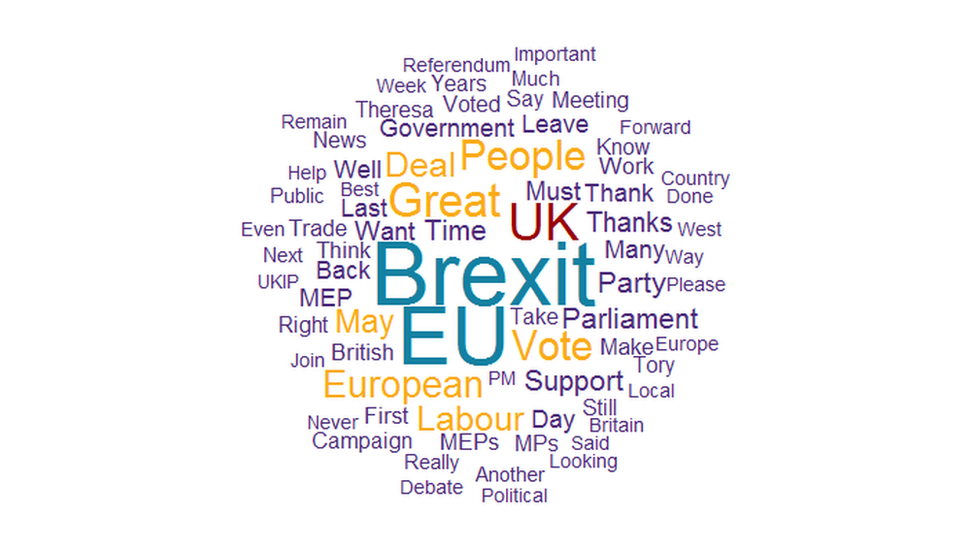 Image caption The word "Brexit" was tweeted more than 16,000 in recent months by the UK's MEPs
Four out of 10 current UK MEPs are not contesting the European Parliament elections. That means at least 30 of those elected from 23-26 May might either never take their seats or serve only a few months if the UK leaves the European Union by the end of October. However, voters are being urged not to see the elections as a "joke", as Brexit dominates the agenda.
Who can I vote for?
There are 72 UK MEPs currently serving, with one seat vacant. Of those, 43 are seeking re-election and there are 548 other new candidates.
In London 88 candidates representing 11 parties, including independents as one group, are vying for eight seats. That compares with 10 parties for three seats in Northern Ireland.
There are 23 parties in total, including independents as one group, but only 10 of them are standing in more than one region.
The Yorkshire Party is standing in Yorkshire only, the Animal Welfare Party and Women's Equality Party have only put up candidates in London and the Independent Network is only standing in the East Midlands. The Socialist Party of Great Britain has candidates in the South East only.
Three parties are standing in all 12 nations and regions – the Conservatives, Greens and UKIP.
Labour, the Liberal Democrats, Change UK and The Brexit Party are standing in all regions apart from Northern Ireland.