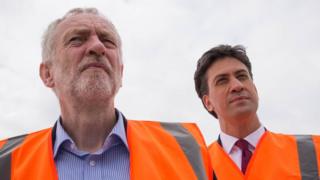 Image copyright PA Media Image caption Former Labour leader Ed Miliband (right) looked into Jeremy Corbyn's (left) election strategy
MPs Ed Miliband and Lucy Powell were key figures behind the new report into Labour's election defeat in December 2019.
And you could say they know a lot about losing elections.
Mr Miliband was leader when the party suffered a worse-than-expected result in 2015, and Ms Powell – his former chief of staff – played a key role in that campaign.
When they announced the review days after the election, some in the party felt their track record disqualified them from sitting in judgement on the failures of a subsequent leadership.
But in some ways, they were rather well qualified for the task – with both MPs back on the front bench under Sir Keir Starmer's leadership, and with a direct responsibility to act on their own recommendations.
As well as Mr Miliband and Ms Powell, 13 other "commissioners" were involved in compiling the report, drawn from unions, local government and from different parts of the country.
The commission had access to private polling, it surveyed 11,000 members, carried out some in-depth interviews and convened a "citizens" panel' to explore the scale of the problem.
Some of the research was commissioned from the Campaign Company – set up by Labour's recently appointed general secretary, David Evans, and the corporate alma mater of Sir Keir's chief of staff, Morgan McSweeney. So they will be well placed to act on the report's findings.
What makes the report particularly interesting – which the MPs will know from bitter personal experience – is it argues strongly that Labour's electoral woes did not start and end with its former leader Jeremy Corbyn.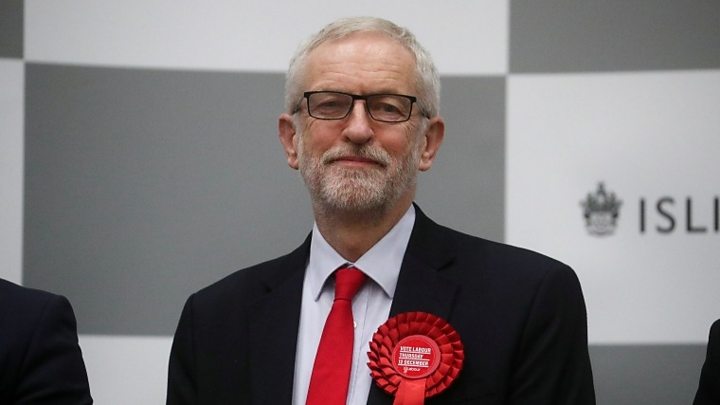 Media playback is unsupported on your device
Media captionJeremy Corbyn announced on election night he would not lead party in future campaign.
It does not suggest the scale of the last election defeat was somehow historically inevitable.
Instead, it declares that "a combination of views of our party leadership, Brexit and a manifesto that was not seen as credible sealed our defeat in 2019".
No surprise there.
But the report then twists the knife a little further, adding: "In the words of our candidates and activists, the strategy was inadequate, the organisation was muddled and the execution was poor."
Digital disaster
The review's conclusions then places some aspects of the campaign under the telescope.