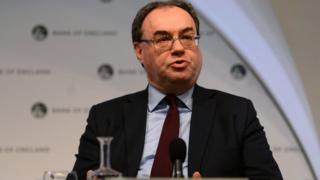 Image copyright Getty Images
Andrew Bailey has been appointed as the next governor of the Bank of England.
Mr Bailey, aged 60, is currently chief executive of the Financial Conduct Authority (FCA), the City watchdog.
He will become the 121st governor of the Bank of England on 16 March, taking over from Mark Carney, and will serve a full eight-year term.
The search for the new governor began in April and Mr Bailey, who spent more than 30 years at the Bank, was seen as an early favourite for the job.
However, the FCA has faced criticism in recent months over its regulatory scrutiny of the flagship fund of one of the UK's best known money managers, Neil Woodford. The fund was suspended in June and eventually closed, with investors expected to lose large sums of money.
In addition, the FCA's report into Royal Bank of Scotland's treatment of small business by its controversial restructuring division was called a "whitewash" after it recommended taking no further action against the bank.
Five things the Bank of England does
It sets the official interest rate, which determines the cost of borrowing money
It supervises the financial system, seeking to ensure it is stable and no banks are running out of cash
It acts as the government's bank and a lender of last resort in times of financial difficulty
It issues the UK's banknotes (coins are issued by the Royal Mint)
It stores the UK's gold reserves, as well as those of other central banks
Announcing the decision to appoint Mr Bailey, Chancellor Sajid Javid said he was "the stand-out candidate in a competitive field".
"He is the right person to lead the Bank as we forge a new future outside the EU and level-up opportunity across the country," he added.
Accepting the role, Mr Bailey said it was "a tremendous honour" to be chosen.
"The Bank has a very important job and, as governor, I will continue the work that Mark Carney has done to ensure that it has the public interest at the heart of everything it does."
CBI chief economist Rain Newton-Smith congratulated Mr Bailey, saying: "His strong experience, both in Threadneedle Street and at the Financial Conduct Authority, means he is particularly well placed to steer the British economy through the new course it will take after Brexit and through challenging global economic times."
But shadow chancellor John McDonnell was critical of the appointment, saying: "As an establishment figure with what some consider is a less than inspiring record at the FCA,