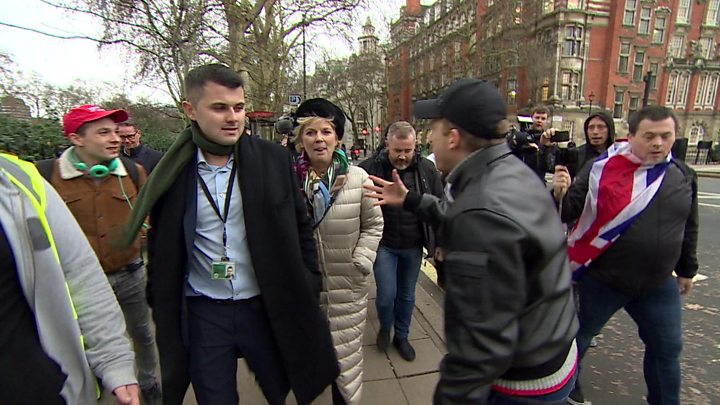 Media playback is unsupported on your device
Media captionBrexit protesters chant 'Nazi and scum' at Conservative MP Anna Soubry
MP Anna Soubry has criticised the police for failing to intervene after she was verbally abused by protesters outside Parliament.
The Conservative ex-minister was accused "of being a Nazi", while being interviewed on the BBC News channel.
She called for the protesters, who were wearing yellow vests, to be prosecuted under public order legislation.
Commons Speaker John Bercow said he was worried about a "pattern" of women MPs and journalists being targeted.
Raising the issue in the House of Commons, Labour's Mary Creagh said the "really vile, misogynistic thuggery" that had been seen was not an isolated incident.
She accused far-right groups of re-playing Monday's clip and others like it on social media sites to "raise revenue for their trolling activities".
Ms Soubry, the pro-European MP for Broxtowe who supports another Brexit referendum, was subjected to verbal abuse while being interviewed by the BBC's Simon McCoy.
Protesters standing just a few yards from the entrance to Parliament accused her of being a liar and then chanted: "Anna Soubry is a Nazi."
She was later shouted at and jostled as she tried to re-enter the Palace of Westminster.
Reacting during the live interview, she told McCoy she "objected to being called a Nazi", adding that such language was "astonishing – and this is what has happened to our country".
She said she would not be silenced nor intimidated but it was wrong that MPs and others doing their job in such a public space should "have to accept this as part of the democratic process".
After the incident, she told BBC News the police needed to "do their job". And it is understood she will be contacting them about the matter. The MP has already been in touch with the parliamentary authorities responsible for security.
A number of MPs raised the matter with Mr Bercow at the end of a statement on the government's Brexit policy.
Labour's Stephen Doughty called for "proper action" to be taken by the Metropolitan Police against those responsible for what he said were "potentially unlawful actions".
'Total safety'
And Conservative MP Nick Boles urged Mr Bercow to ensure everything possible was done to not only protect the right to freedom of speech but the right of MPs to move freely in and around Parliament in "total safety".
Mr Bercow said he was aware of protests in recent weeks around the Palace of Westminster "involving aggressive and threatening behaviour towards members by assorted groups that have donned the yellow vests seen in France"