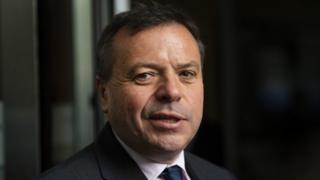 Image copyright PA
The Twitter account of Arron Banks, the founder of the pro-Brexit campaign Leave.EU, has been hacked.
The perpetrator has leaked thousands of his private messages to and from dozens of other people spanning several years.
In a statement, Mr Banks accused Twitter of taking too long to tackle the issue and said the social network had "deliberately chosen" to leave his personal information online.
Twitter said it had "taken steps to secure the compromised account".
"We will continue to take firm enforcement action in line with our policy which strictly prohibits the distribution on our service of materials obtained through hacking," Twitter said in a statement.
Skip Twitter post by @LeaveEUOfficial
A statement from https://t.co/p8LEuOGIf2 chairman Arron Banks:
— Leave.EU (@LeaveEUOfficial) November 19, 2019
End of Twitter post by @LeaveEUOfficial
It is not known who carried out the attack.
The data was made available by the hackers in the form of a link to a download. The original file is no longer online.
It is against the law to download stolen information.
Avon and Somerset Police has confirmed that it is investigating the matter.
"We're investigating whether any offences have been committed under the Computer Misuse Act after we received a report a Twitter account was compromised," said a spokesman.
In February 2019, Leave.EU and an insurance company owned by Mr Banks were fined £120,000 by the Information Commissioner's Office for breaching data protection laws.
"Arron Banks has shown extraordinary contempt for the ICO and British data laws and so this is a moment for him to reflect on the need for those laws and a regulator to enforce them," said the journalist Carole Cadwalladr.
Ms Cadwalladr and Mr Banks have had many battles over her investigations into his affairs.
Skip Twitter post by @carolecadwalla
#arronbanksleaks Right. I've just been sent the first set of direct messages from the file. They're pretty explosive. What are the ethics/legals on this, world?
— Carole Cadwalladr (@carolecadwalla) November 19, 2019
End of Twitter post by @carolecadwalla
She said in a tweet that she had been sent some direct messages, said to be from the hacked account.
They were "pretty explosive" she tweeted.
Ms Ca