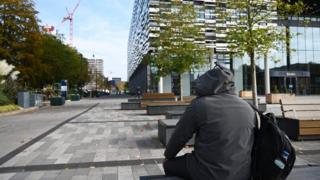 Image copyright AFP/Getty Images
Delays in processing UK asylum applications increased significantly last year, official figures suggest.
Four out of five applicants in the last three months of 2019 waited six months or more for their cases to be processed, compared with three in four during the same period in 2018.
In 2014, only one in five asylum applicants was waiting that long.
The Home Office said it dealt with "a high number of complex cases" and wanted to end "unnecessary delay".
Asylum seekers cannot work while their claims are being processed, so the government offers them a daily allowance of just over £5 and accommodation, often in hostels or shared flats.
Once an applicant has waited for a year they can apply for the right to work, but the jobs they can apply for are restricted to those on the government's occupation shortage list.
The Home Office website says straightforward decisions are usually made within six months. But this standard was dropped as a target last year amid the growing backlog of complex cases.
'We don't know the end of it'
Farzin (not his real name) has been waiting for a decision since December, having come from Iran to the UK to avoid religious persecution.
The former importer/exporter says he is yet to be interviewed by officials.
"We don't know when it's going to be finished," he says. "We don't know the end of it. It adds to a sense of despair and frustration."
When he arrived in Yorkshire, Farzin thought he might use his business experience and skills to get a job but while he waits he is unable to work.
He says the £5 allowance covers food but not much else. "You don't have social activities. The only thing you can do is walk around and do some food shopping."
Lockdown has made life harder. "You are asking someone to stay in a room with £5 a day and with no chance of travelling or doing anything or buying stuff or having the internet or topping up your phone," says Farzin. "This is a recipe for producing mentally ill people."
Asylum applications made between March and December 2014 – the earliest information available – had a more than 80% chance of being decided within six mo