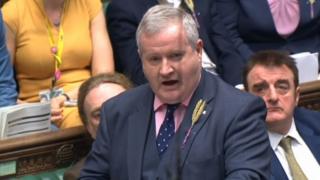 Image copyright PA Image caption Ian Blackford says Parliament will need more time to put new proposals to MPs and the people.
SNP MPs will support a bid to suspend the Brexit process, the party's Westminster leader has said.
Ian Blackford said he expects an amendment suspending Article 50 to be brought forward in the Commons before 9 December.
He told the BBC's Sunday Politics Scotland programme SNP MPs were also backing a "no-deal" amendment tabled by Labour MP Hilary Benn.
MPs are due to vote on Theresa May's Brexit proposals on 11 December.
The Scottish Conservatives accused the SNP of wanting to create "constitutional turmoil".
Mr Blackford said he supported the Labour MP's amendment, and expected SNP MPs to sign up when Westminster business resumes on Monday.
Cross-party MSPs at Holyrood have already joined forces to back a stance that rejects both the prime minister's deal and a no-deal.
Mr Blackford said he hoped the Commons could now take the lead on how Brexit pans out.
Asked about an amendment to suspend Article 50 – the legal trigger that activated the withdrawal process – Mr Blackford said he expected movement before 9 December.
"There are still a number of days left for Parliament to put down an amendment to that effect, and I believe that that will be the case.
"We have expressed for a considerable period of time that we wanted Article 50 to be suspended, and we know that can be done for a number of months."
He said there were MPs across the chamber who would support a suspension.
'Common sense'
"If you are going to vote against Theresa May's deal, if you are going to vote to rule out a no deal scenario then it is common sense that you need to make sure that there is time for a new proposal to be put forward in Parliament and perhaps even to the people of Scotland and United Kingdom," he told the programme.
"That means that we have to postpone article 50.
"The European Union recognises that there is a possibility of that coming, and the European Union – at least in the first case – can agree to that until the end of June."
He refused to be drawn on reports that the SNP has been in discussions with the Labour Party about supporting a Labour minority government.
He said: "At the moment, our entire focus is on the Brexit process."
Meanwhile, David Lidington,