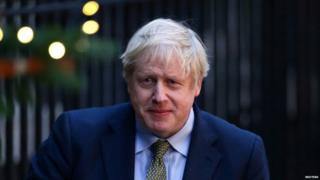 Image copyright Reuters
The UK is on the verge of a "new chapter" in its history, Boris Johnson has said, as he promised to "finish the job" by delivering Brexit within weeks.
In his new year message, the prime minister said he hoped the country would "move forward united" after it leaves the EU on 31 January.
He vowed to govern "for everyone", not just those who backed him at the polls.
And he said he wanted more prosperity and fairer opportunity to be the hallmarks of a "remarkable" new decade.
Boosting resources for the NHS, improving the UK's infrastructure, tackling violent crime and protecting the environment were among his government's other main priorities for the year ahead, he said.
Mr Johnson, who is currently on holiday in the Caribbean, said the "first item on his agenda" when he returned was delivering on the mandate of the people and taking the UK out of the EU.
He said: "We can start a new chapter in the history of our country, in which we come together and move forward united, unleashing the enormous potential of the British people."
The Conservatives' resounding election victory on 12 December had "driven an electoral bulldozer" through the deadlock in Parliament, he said, and offered a way out of the "division, rancour and uncertainty" surrounding the Brexit debate since the 2016 referendum vote.
Legislation to ratify the withdrawal agreement with the EU easily cleared its first hurdle before Christmas, when MPs backed it by a majority of 124.
Deal 'in the microwave'
With an 80-seat Conservative majority in the Commons, the remaining stages of the bill are expected to be completed quickly in January in time, the PM said, to "get Brexit done before the end of this month".
"That oven-ready deal I talked about so much during the election campaign has already had its plastic covering pierced and been placed in the microwave," he said.
Image copyright Getty Images Image caption Mr Johnson said giving the NHS the resources it needed was his "top priority"
While the UK is set to leave the EU's institutions at 23.00 GMT on 31 January, negotiations over its future economic relationship with the 27-member bloc have yet to begin, with experts saying they will be far tougher than those over the terms of the UK's exit.
Mr Johnson has set himself a deadline of completing an ambitious trade deal by the end of 2020, when the 11-month transition period agreed by the two sides ends. Many leading EU figures have cast doubt upon the tight timetable and questioned the PM's ruling out of any extension.