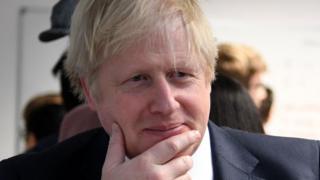 Image copyright AFP
It's only six weeks since Boris Johnson stormed to victory in the general election – winning with an 80-strong majority – but the honeymoon is over and the new prime minister now has serious government business to attend to.
The coming few weeks demand some big decisions from Mr Johnson and his cabinet.
So what are they – and what does the BBC's assistant political editor Norman Smith think are the key factors at play?
The Huawei question
Image copyright Reuters
One of Mr Johnson's headline pledges in his election campaign was to increase connectivity for all, so the creation of a UK-wide 5G mobile network could play a major part in keeping that promise.
Chinese firm Huawei is a leader in the field and wants to supply the kit for the network.
But while the technology is recognised, there are fears about allowing a company with strong links to the Chinese government into such crucial infrastructure.
The US in particular has voiced its concerns, saying it "would be madness" to use the firm's technology and warning the decision would lead to a review of intelligence-sharing with the UK.
But Huawei has denied posing any threat to security and suggested the worries were about frustrating its progress in the sector, rather than anything more sinister.
A decision was due last year, but it was delayed, prompting anger from UK mobile companies who are keen to crack on.
The government is expected to make its final call on Tuesday, but Mr Johnson hinted with a day to go that there would be some use of the tech firm's equipment.
He told reporters: "We are going to come up with a solution… to have access to fantastic technology, fantastic communications, but also [to] protect our security interests and protect our key partnerships with other security powers around the world."
Expect loud reaction either way.
Norman Smith says: Boris Johnson risks a major rift with Donald Trump over this.
The US president has put the squeeze on the PM by making clear he believes Huawei is a security risk – a squeeze made more pressing by the fact Mr Johnson is desperate for a trade deal with Washington.
But against that, Britain's spies apparently believe the risk is overstated, and British companies are convinced giving the Chinese the go-ahead would be a major post Brexit-boost for the economy.
HS2 or not to HS2
Image copyright PA Media
Another pledge from the PM was to improve physical infrastructure in the UK –