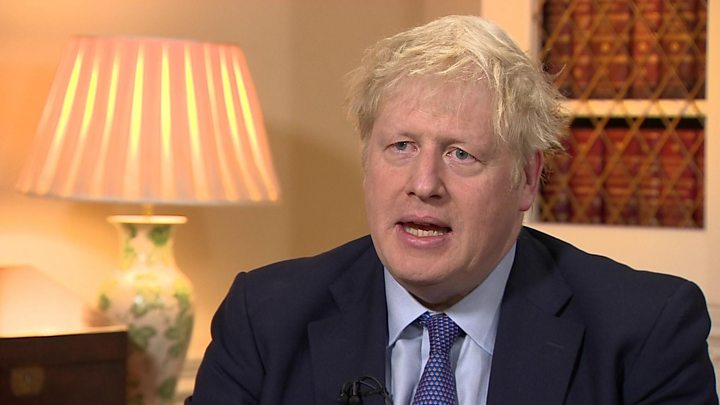 Media playback is unsupported on your device
Media captionPM on US-Iran tensions: 'Let's dial this thing down'
Boris Johnson has said the Iran nuclear deal should be replaced with a "Trump deal".
The prime minister said he recognised US concerns the 2015 deal was "flawed", but there had to be a way of stopping Tehran from acquiring nuclear weapons.
"If we're going to get rid we need a replacement," he told BBC Breakfast. "Let's replace it with the Trump deal."
His comments came as the UK, France and Germany triggered a dispute mechanism in the deal after violations by Iran.
Foreign Secretary Dominic Raab is to make a Commons statement later amid growing fears for the future of the 2015 Joint Comprehensive Plan of Action (JCPOA), which was abandoned by the US in 2018.
Iran has suspended all limits on its production of enriched uranium, which can be used can be used to make reactor fuel but also nuclear weapons. It has said it is responding to sanctions reinstated by the US in 2018.
In a joint statement, the three European powers said Iran was not "meeting its commitments" and it was referring the issue to the body which enforces the agreement to try and ensure Tehran complied with the terms of the existing agreement as soon as possible.
"We do this in good faith with the overarching objective of preserving the JCPOA and in the sincere hope of finding a way forward to resolve the impasse through constructive diplomatic dialogue, while preserving the agreement and remaining within its framework," it said.
The BBC's political editor Laura Kuenssberg says she understands the PM believes the current deal has to be made to work in a format that the US will sign up to.
Image copyright EPA Image caption Iran says it suspended its nuclear commitments in response to the reinstated US sanctions
In a wide-ranging interview with BBC Breakfast's Dan Walker – his first major TV interview since the election – the PM also said he was "very, very, very confident" about the UK and EU negotiating a new trade deal by the 31 December deadline.
While, in any negotiation, a country had "to budget for a complete failure of common sense", he believed a successful outcome was "enormously likely".
He also said the government was continuing to look at whether Big Ben would chime at the moment that Brexit happens at 23.00 GMT on 31 January. The bell is currently being refurbished and he said it would cost about £500,000 for it to be brought back into use for one night.