Media playback is unsupported on your device
Media captionBoris Johnson says about 74 convicted terrorists have been released early from prison
Boris Johnson has told the BBC that 74 people jailed for terror offences and released early will have their licence conditions reviewed.
The Ministry of Justice launched the urgent review after convicted terrorist Usman Khan, who had served half of his sentence, killed two people in a knife attack at London Bridge on Friday.
The prime minister claimed scrapping early release would have stopped him.
But Labour is blaming budget cuts for "missed chances to intervene".
Friday's attack was brought to an end when police shot Khan dead.
The 28-year-old had previously been jailed over a plot to bomb the London Stock Exchange in 2012.
He was sentenced to indeterminate detention for "public protection" with a minimum jail term of eight years.
This sentence would have allowed him to be kept in prison beyond the minimum term.
But in 2013, the Court of Appeal quashed the sentence, replacing it with a 16-year-fixed term of which Khan should serve half in prison.
He was released on licence in December 2018 – subject to an "extensive list of licence conditions", Met Police Assistant Commissioner Neil Basu said.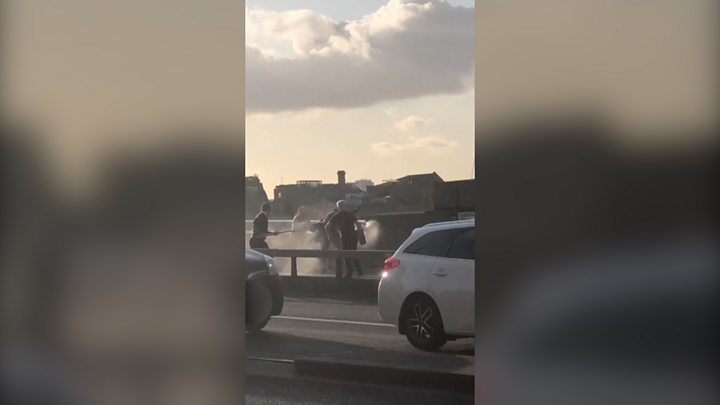 Media playback is unsupported on your device
Media captionVideo footage shows moment London Bridge attacker was apprehended
'Repulsive'
The prime minister told the BBC's Andrew Marr show it was "repulsive" that someone as "dangerous" as Khan could be released from prison after "only serving eight years".
He blamed Khan's release on legislation introduced under "a leftie government", insisting the automatic release scheme was introduced by Labour – but was challenged about what the Conservatives had done to change the law over the past 10 years in government.
"I'm a new prime minister," said Mr Johnson. "We take a different approach."
He added: "I opposed [automatic release] both in 2003 and 2008, and now that I am prime minister I'm going to take steps to make sure that people are not released early when they commit… serious sexual, violent or terrorist offences.
"I absolutely deplore that fact that this man was out on the streets… and we are going to take action against it."
Mr Johnson said there are "probably about 74 people" who had been subject to early release following serious offences, adding that action had been taken immediately following London Bridge attack "to ensure there is no threat to the public".