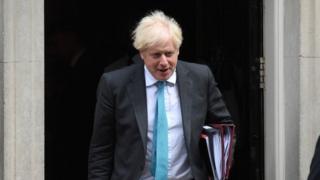 Image copyright EPA
Boris Johnson has reached a deal with potential Tory rebels over a bill to rewrite the EU withdrawal agreement, the BBC understands.
More than 30 Tory MPs were expected to vote for an amendment to the Internal Market Bill next week.
If passed, Sir Bob Neill's amendment would have given MPs the final say over changes to the withdrawal agreement.
The PM has now promised to give MPs "an extra layer of Parliamentary oversight" it is understood.
The BBC's political editor Laura Kuenssberg said the hope from ministers is that this will "prevent rebellion next week".
The UK Internal Market Bill cleared its first hurdle in the Commons on Monday.
The bill sets out changes to the withdrawal deal Boris Johnson signed with the EU in January.
'Good faith'
Mr Johnson says it is needed to protect the "territorial integrity" of the UK if trade talks with the EU fail.
Speaking to the Liaison Committee, a panel of senior backbench MPs, he insisted the bill was a "belt and braces" measure in case of "extreme" interpretations of the withdrawal agreement by the EU.
The bill was "about ensuring friends and and partners don't do something unreasonable," he added.
Pressed by Labour MP Hilary Benn on whether he believed the EU was negotiating with the UK in good faith, he said: "I don't believe they are."
He added that it was "always possible that I am mistaken and perhaps they will prove my suspicions wrong".
'Specific and limited'
But he told the MPs a no-deal scenario was "not what this country wants" and "it's not what our EU friends and partners want from us".
"Therefore I have every hope and expectation that that won't be the outcome."
The Internal Markets Bill has provoked a backlash from the EU, which has threatened legal action – and the possible suspension of trade talks – if it is not withdrawn.
Northern Ireland Secretary Brandon Lewis last week admitted – in response to a Commons question from Tory MP Sir Bob Neill – that the bill would break international law in a "specific and limited" way.
His words prompted the resignation of a senior government law officer and condemnation from all five living former prime ministers, who have warned that it threatens the UK's reputation for upholding treaties and international laws.
A number of Tory MPs abstained, or voted against, the bill on Monday – and many of them were expected to back Sir Bob Neill's amendment next week.