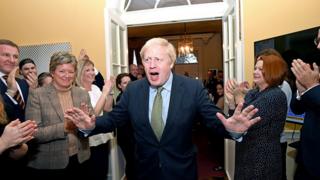 Image copyright PA Media
It is one year since Boris Johnson became the prime minister of the UK.
And it wasn't 12 months he – or any of us – could easily forget.
On the anniversary of his premiership, we take a look at some of the most defining and controversial moments so far.
Getting Brexit Done
The country was following every twist and turn, watching Brexit votes and key decisions unfold in Parliament.
But when Mr Johnson came to power on 24 July 2019, his first task was getting to grips with Brexit – and following through with his plan, to ditch his predecessor Theresa May's deal and renegotiate with Brussels.
Image copyright Getty Images Image caption All sides of the Brexit argument took to the streets
When he took the reins, the deadline for leaving the EU was 31 October, and he condemned the "the doubters, the doomsters, the gloomsters" who didn't think an agreement was possible by then.
But protesters for both Leave and Remain swarmed around the House of Commons, he barely had a majority in Parliament and there were more rebels on his benches than John Bercow's daily "order!" tally.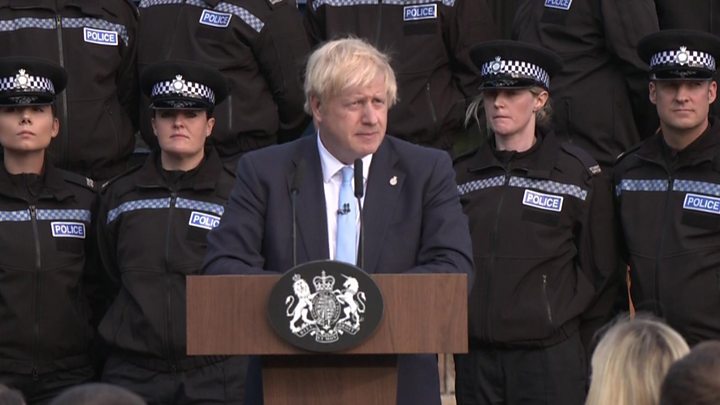 Media playback is unsupported on your device
Media captionBoris Johnson: "I'd rather be dead in a ditch" than ask for Brexit delay
Mr Johnson managed to secure a new deal with the bloc – minus the Irish backstop.
But it took withdrawing the whip from 21 of his own MPs, multiple failed votes in the Commons, an unsuccessful Saturday sitting, having to request an extension he'd rather "die in a ditch" than ask for, and, eventually, an election to get it passed.
The UK left the EU on 31 January and in March, the trade negotiations between the two sides began, with another deadline of the end of the year to contend with.
The unlawful prorogation
As if there wasn't enough argument amongst MPs, the PM set off more fireworks early on in his tenure.
While Westminster was on its summer break in August, Mr Johnson announced he planned to prorogue Parliament within days of its return in September until 14 October.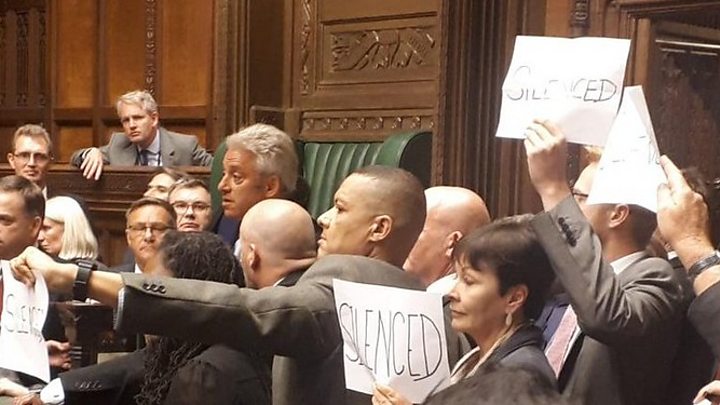 Media playback is unsupported on your device
Media captionSome MPs voiced their objection to the suspension in the Commons
He said it would allow him to come back with a Queen's Speech and outline his "very exciting agenda" as the new man at No 10.
But MPs criticised the lengthy closure,