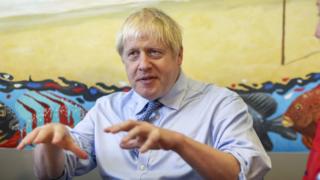 Image copyright EPA
Boris Johnson has insisted preparations for a no-deal Brexit are on track, despite a leaked report warning of potential food and medicine shortages.
The prime minister said preparations had been "very far advanced" ahead of the original 29 March deadline.
Meanwhile, Mr Johnson has written to EU Council President Donald Tusk to outline his opposition to the Irish border backstop plan.
Jeremy Corbyn has vowed to do "everything necessary" to stop no deal.
In a speech earlier, the Labour leader said the leaked report made it "crystal clear how bad things will get" if the UK leaves without a deal on 31 October.
He added that the leak showed "chaos and dislocation" after a no-deal was "very real and threatening".
It comes as local council planning documents seen by the BBC warned that school meal nutrition standards may need to be amended or discarded after a no deal.
Some councils are anticipating they will not meet the standards because of an anticipated rise in food prices and restriction of choice.
'Flexible and creative solutions'
According to Operation Yellowhammer, the dossier leaked to the Sunday Times, the UK could face months of disruption at its ports after a no-deal Brexit.
Plans to avoid a hard border between Northern Ireland and the Irish Republic are unlikely to prove sustainable, it adds.
Michael Gove, the cabinet minister responsible for no-deal planning, has said the information in the leaked dossier was old and Brexit planning had accelerated since Mr Johnson became prime minister.
The BBC has been told the study was first seen by devolved governments earlier this month.
Speaking on Monday, Mr Johnson said he was "confident" the EU would agree to a new Brexit deal, but the UK would be ready to leave without one if needed.
"I'm not pretending that there won't be bumps on the road […] but if everybody puts their minds to it, I have absolutely no doubt that we can get ready," he added.
The prime minister has said he wants to leave the EU with a deal, but the UK must leave "do or die" by the end of October.
Image copyright PA Media
He wants the EU to ditch the Irish border backstop plan from the deal negotiated by Mrs May, which was rejected three times by Parliament.
In his letter to Mr Tusk, Mr Johnson insisted he was committed to ensuring there was no hard border.