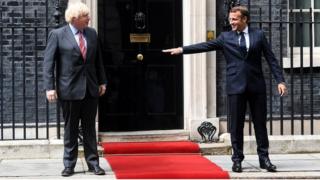 Image copyright EPA
Boris Johnson has met French President Emmanuel Macron in Downing Street to mark the 80th anniversary of a famous wartime broadcast.
In 1940, French Resistance leader Charles de Gaulle used the BBC to send a radio message to Nazi-occupied France, urging people not to give up the struggle against Hitler.
Mr Johnson praised the "courage and sacrifice" of those who fought on.
The Prince of Wales and Duchess of Cornwall welcomed Mr Macron to the UK.
And the Red Arrows and their French counterparts, La Patrouille, performed a flypast above London to mark the occasion.
During their meeting, Mr Johnson and Mr Macron discussed post-Brexit trade arrangements between the UK and EU, with No 10 saying the prime minister "welcomed the agreement to intensify talks in July".
A spokesperson added that he had restated that the UK "does not believe it makes sense for there to be prolonged negotiations into the autumn". The "transition period" – during which the EU remains in the single market and customs union – is due to finish at the end of the year.
The two leaders also talked about easing the 14-day coronavirus quarantine measures in place for visitors to – and UK citizens returning to – the UK.
Mr Macron was exempt from the requirements, as a "representative of a foreign country on business".
Image copyright Getty Images Image caption The Red Arrows and La Patrouille flew over Buckingham Palace
It was earlier announced that four surviving French Resistance fighters are to be appointed honorary MBEs.
Edgard Tupet-Thome, 100, Daniel Bouyjou-Cordier, 99, Hubert Germain, 99, and Pierre Simonet, 98, are already members of the Order of Liberation, an honour given by France to those who played an outstanding role in freeing the country from its four-year wartime occupation.
Mr Macron's visit also comes after it was announced that Dame Vera Lynn, the singer dubbed the "forces' sweetheart" for her morale-boosting performances during World War Two, has died aged 103.
Image copyright PA Media Image caption Social distancing was maintained during the French president's visit to London
Image copyright Reuters Image caption The leaders viewed documents and artefacts relating to General Charles de Gaulle
The two leaders viewed artefacts and letters from General de Gaulle's time in London and from his partnership with the UK's wartime prime minister, Sir Winston Churchill.
Mr Johnson presented Mr Macron with a framed montage of a telegram sent from General de Gaulle to Sir Winston on VE Day,