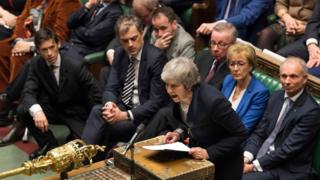 Image copyright MARK DUFFY
With every day that passes, more politicians talk about the prospect of a "no-deal Brexit". This means the UK leaving the European Union without having reached an agreement on what happens next.
But when does it actually become too late for Theresa May?
What are the deadlines?
Only one deadline exists. According to current law, the UK will leave the EU at 23:00 on 29 March.
The date was set after MPs voted to invoke Article 50, the part of a European Union treaty that gives member states the option to leave the union. If a country invokes it, there are two years until it stops being a member. So when the prime minister delivered her Article 50 letter to the EU on 29 March 2017, the clock started ticking.
The 29 March date is also set out in a different law – The EU (Withdrawal) Act – which passed last year and brings all EU laws and rules back into the UK when it leaves the EU.
Can they change the date?
Yes. Despite the current exit day being set out in law, the Withdrawal Act gave ministers the power to change the date, provided this has the approval of MPs and Lords. It would also need unanimous approval from EU leaders.
EU figures have suggested they would agree to an extension of the Article 50 period if the UK decided to hold a fresh referendum or a general election. Experts at the UCL's Constitution Unit have argued that 24 weeks would be needed to hold a referendum.
It is less clear whether they would accept a UK request to postpone exit day to allow Theresa May more time to pass a deal. Some cabinet ministers have suggested the government could ask for a few extra weeks to get the legislation through, although the official government position is that it is committed to leaving on 29 March.
Image caption Tick-tock – how long does Parliament need?
What needs to happen before the UK leaves?
This depends on whether the UK leaves with, or without, a deal.
OK, so what needs to happen if we are heading for 'no deal'?
If it looks as though a no-deal Brexit is likely, there are a number of laws that need to be passed to ensure continuity in crucial areas.
All of these pieces of primary legislation have been introduced by the government but are at different stages of the parliamentary process.
This involves, debate, approval, detailed scrutiny,