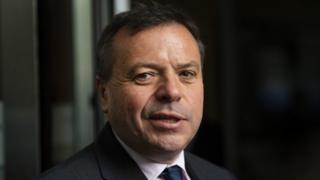 Image copyright PA
The company which the Electoral Commission suspects may have been behind Britain's biggest political donation has no registered address – meaning it has failed to fulfil a key legal requirement – the BBC has found.
Rock Holdings is a firm registered in the Isle of Man and controlled by Leave.EU founder Arron Banks.
The Electoral Commission's ongoing investigation of Leave.EU funds was referred to the National Crime Agency.
Mr Banks denies any wrongdoing.
But BBC Newsnight has found that Rock Holdings has no official registered address on the Isle of Man and that it is therefore "in default", meaning it is not compliant with company law on the island.
Meanwhile one of Mr Banks's companies has obstructed the BBC's attempt at seeing Rock Holdings' accounts – despite formally agreeing with Companies House that it would ensure the documents would be made publicly available.
Mr Banks is a multimillionaire insurance mogul behind the Go Skippy car insurance brand.
He loaned £8m to the Leave.EU campaign before the 2016 EU referendum and says the money came from his company, Rock Services, based at his office in Catbrain Lane, Bristol.
The Electoral Commission suspects the money may have come from another Banks entity, Rock Holdings, based on the Isle of Man.
They, along with the National Crime Agency, are examining whether "impermissible money" may have been used to help fund the Leave campaign before the 2016 EU referendum.
The law on political money is simple. The source should be clear, transparent and British.
If the £8m came from Rock Holdings, then the money would be impermissible and Mr Banks would be in trouble.
Mr Banks says he is a British taxpayer and the money was generated in Britain.
Following the trail to Rock Holdings
For more than a year, accountant and investigative journalist Iain Campbell has been looking into Mr Banks's financial empire, all of which is private and some is held offshore in Gibraltar and the Isle of Man.
Mr Campbell noted that Rock Services has successfully qualified for a limited disclosure exemption under the Companies Act, allowing it to provide less information in its accounts.
But in order to gain this exemption, it had stated in its notes that the accounts of its parent company, Rock Holdings, were "publicly available" at Catbrain Lane.
So last month, Mr Campbell tested this out in person. He went to the Catbrain Lane base, only to be told that they were not available "that day".
Since then,