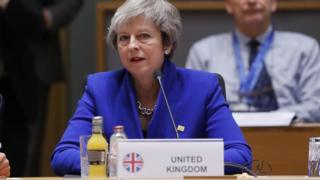 Image copyright EPA
Rejecting the Brexit deal will be risky and lead to "division and uncertainty", Prime Minister Theresa May will say to MPs who oppose her plan.
Her Commons speech comes after the 27 other EU leaders approved the terms of the UK's exit at a summit on Sunday.
Mrs May now has to persuade politicians in the UK Parliament to back the deal.
But cabinet ministers admit she faces an uphill struggle, with Labour, the Lib Dems, the SNP, the DUP and many Tory MPs set to vote against it.
The DUP has said it will review their parliamentary pact with the Conservatives, which is effectively keeping Mrs May in power, if the deal is approved by MPs.
And Labour leader Jeremy Corbyn said his party would oppose it, calling it "the worst of all worlds".
The prime minister has pledged to put her "heart and soul" into a two-week push to convince MPs to back the terms of the UK's withdrawal from the EU and its future relations with the bloc.
Parliament will decide whether to accept or reject the package next month, in a vote which is likely to be on 12 December.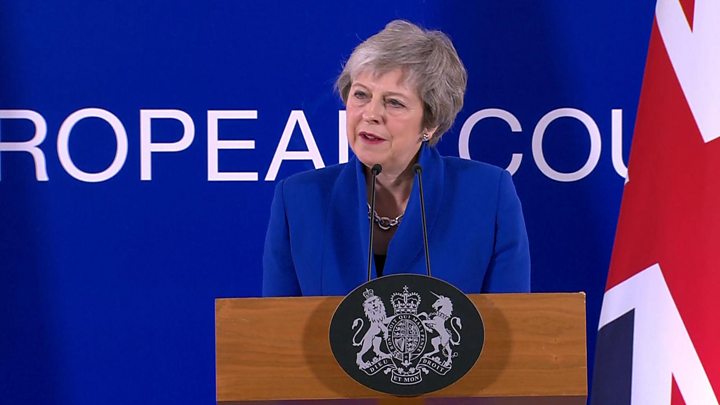 Media playback is unsupported on your device
Media captionTheresa May: "I will make the case for this deal with all my heart"
Her campaign – which saw her appeal to the public in a "letter to the nation" at the weekend – could also include a TV debate with Mr Corbyn, the Daily Telegraph has reported.
The newspaper said Mrs May – who refused to take part in a head-to-head debate with the Labour leader before the 2017 election – will challenge Mr Corbyn. Labour says he would "relish" a debate.
Meanwhile, analysis commissioned by the People's Vote campaign – which wants another referendum on Brexit – claimed the deal would leave the UK £100bn a year worse off by 2030.
'Back to square one'
In her Commons statement on Monday, expected to begin at about 15:30 GMT, Mrs May will say that backing the deal would bring an end to the uncertainty surrounding Brexit.
"Our duty as a Parliament over these coming weeks is to examine this deal in detail, to debate it respectfully, to listen to our constituents and decide what is in our national interest," she will say.
Image copyright AFP Image caption Mrs May's Tory critics include Brexiteer MPs David Davis,