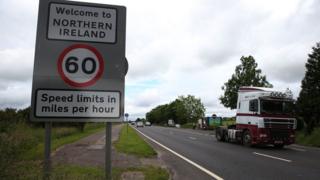 Image copyright PA Media Image caption Arrangements for the Northern Ireland border are a key sticking point in the UK-EU deal talks
The UK is willing to make concessions to its plans for the Northern Ireland border after Brexit but "a big gap" remains over customs arrangements, EU ambassadors have been told.
In a briefing on UK-EU weekend talks on a Brexit deal, EU chief negotiator Michel Barnier said UK plans on the tracking of goods were unacceptable.
Earlier, Boris Johnson told his cabinet "significant work" was still needed.
It comes as his government's agenda is to be set out in the Queen's Speech.
Plans for life after Brexit, crime prevention and ending rail franchises are all expected to be outlined in the Queen's address on Monday, which opens the new session of Parliament.
Meanwhile, the UK and EU negotiating teams are due to meet again in Brussels today, as efforts continue to reach a deal before a summit on Thursday and Friday.
The government says that, if it can strike an agreement at the summit, it will introduce a withdrawal agreement bill to be voted on next Saturday in a special Parliamentary session.
It is seen as the last chance to do this before Brexit is due to happen at 23:00 GMT on 31 October.
On Sunday, Mr Johnson told cabinet ministers he could see a "way forward" to a deal "in all our interests".
The European Commission echoed the prime minister, saying: "A lot of work remains to be done."
In a statement it added that the "intense technical discussions" between the UK and EU officials in Brussels would continue on Monday before member states were updated on the progress at a meeting in Luxembourg on Tuesday.
Image copyright Reuters Image caption Talks between the UK and EU will continue in Brussels on Monday
The issue of the Northern Ireland border in post-Brexit arrangements is seen as the key factor in the EU-UK talks and Mr Johnson came up with revised proposals this month.
BBC Brussels correspondent Adam Fleming said Mr Barnier, in his briefing to EU diplomats, said the UK had dropped its proposals to include an up-front veto for Northern Ireland politicians in the Stormont Assembly before any arrangements for Northern Ireland came into force.
But he said the UK is still seeking the power for Northern Ireland to leave the arrangements at some point in the future.