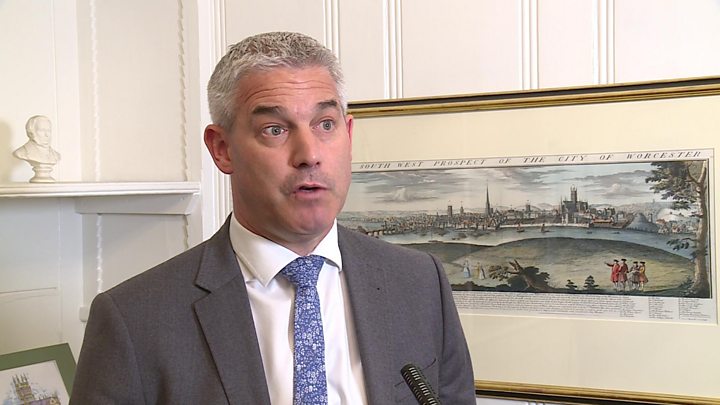 Media playback is unsupported on your device
Media captionBarclay: There needs to be an "end point" to Brexit talks
A bill implementing the Brexit deal will be introduced in the first week of June, the government has confirmed.
Downing Street said this was "imperative" if the UK was to leave the EU before MPs' summer recess.
The government also said talks with Labour would continue on Wednesday in an attempt to agree a way through the Brexit impasse.
Attempts to find a cross-party compromise began after the PM's Brexit deal was rejected three times by MPs.
A Labour spokesman said Jeremy Corbyn had raised concerns "about the prime minister's ability to deliver on any compromise agreement".
BBC political correspondent Iain Watson said bringing the legislation forward would allow the prime minister to push ahead with her ambition of delivering Brexit before the summer, despite the lack of agreement so far in the cross-party talks.
He said the vote on the law was separate to a so-called meaningful vote on the prime minister's Brexit deal – which has been defeated by MPs three times.
He added that the proposed timetable nevertheless would allow "more space and more time" for the talks to continue.
Image copyright Reuters and PA
The prime minister and Labour leader Jeremy Corbyn met on Tuesday evening to discuss the ongoing talks.
Number 10 described the discussions as "both useful and constructive".
A spokesman said Theresa May had made clear the government's "determination to bring the talks to a conclusion and deliver on the referendum result to leave the EU".
Brexit Secretary Steve Barclay said: "It is now time for Parliament to make a decision, reflecting the manifestos of both the Conservative and Labour parties at the last general election and to deliver Brexit in the way that the public were promised."
In the 2017 general election, the two main parties promised in their manifestos to respect the result of the Brexit referendum.
A Labour party spokesman said Mr Corbyn had "raised doubts over the credibility of government commitments, following statements by Conservative MPs and cabinet ministers seeking to replace the prime minister".
He also said the Labour leader had called for "further movement" from the government and that the prime minister's team had agreed to bring back "further proposals tomorrow".
It is understood that Jeremy Corbyn has rejected any suggestion that Labour would support the Withdrawal Agreement Bill without agreement.
Brexiteer and Conservative MP Steve Baker said bringing the bill forward "over the heads" of DUP MPs – on whom the government relies for a majority –