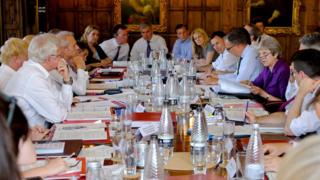 Image copyright Getty Images Image caption The plans agreed at Chequers last month have upset some Conservative members
Theresa May is not only under pressure from her MPs on Brexit – there has also been talk of a "revolt" among grassroots members unhappy at her plans.
In recent days there have even been suggestions of "infiltration" into the party by UKIP supporters wanting to influence a future leadership contest.
There have also been calls for a rule change that might make it easier for MPs popular with the grassroots to become leader.
Lord Hague does not want the party to go down this path – the former party leader has warned about the membership being "swamped by a sudden influx of new recruits".
So are the Tory grassroots, to coin a phrase, "taking back control"?
In 2016, between David Cameron resigning as prime minister and Theresa May presiding over her first Conservative Party conference as leader that autumn, Conservative Party membership surged by as much as 50,000.
Some put this down to excitement at the new direction the country was taking. Now, however, some suspect it may have been the beginnings of a harder right seeking to influence party policy – particularly UKIP supporters masquerading as Tories in order to pressurise their local MP into maintaining a 'hard Brexit' policy.
Supporting this theory are the many former UKIP voters who defected to the Conservatives in the 2017 election.
More recently, former UKIP donor and Nigel Farage ally Arron Banks called for supporters of his Leave.EU group to join the Conservative Party so they can vote in the party's next leadership election.
There have been tweets from people supporting his campaign and displaying their new membership cards:
Skip Twitter post by @paulrose_pcpaul
I've never been a member of any political party. Today I joined the Conservative party so I can hopefully help in the removal of Treacherous Theresa, the fact that it will annoy Anna Sour-bry is a bonus 🙂
— Paul Rose (@paulrose_pcpaul) August 19, 2018
End of Twitter post by @paulrose_pcpaul
Skip Twitter post by @AnteDeum
I think a change at the top is required!@BorisJohnson, time to take the stage, front and centre! pic.twitter.com/r2hqkmxwHH
— Silent Running (@AnteDeum) August 17, 2018
End of Twitter post by @AnteDeum
Didier Delmer, who runs a Twitter account called #StandUp4Brexit, told the BBC he had been a Conservative member for 10 years until the Chequers plan was announced –