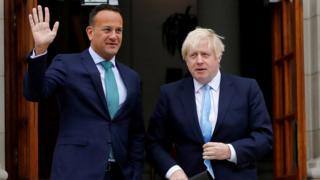 Image copyright Reuters
Prime Minister Boris Johnson and his Irish counterpart Leo Varadkar will meet for talks later to discuss the UK's Brexit proposals.
Downing Street said the meeting was to allow "detailed discussions" on the process of securing a deal.
Mr Johnson has said he remains "cautiously optimistic" about a deal.
But on Wednesday EU leaders accused the UK of putting forward untested ideas, adding that progress towards a new deal had been limited.
A similar sentiment was expressed on Tuesday by Mr Varadkar, who suggested it would be "very difficult" for the UK and the EU to reach a Brexit agreement before the 31 October deadline.
The meeting between the two leaders will take place in the north-west of England, with Mr Johnson still insisting the UK will leave the EU with or without a deal at the end of the month.
That is despite the so-called Benn Act – passed by MPs last month – demanding he request a delay to the Article 50 deadline from the EU until January 2020 if a deal has not been agreed before 19 October.
On Wednesday, Business Secretary Andrea Leadsom said the PM was gearing up to bypass legal obstacles to a no-deal Brexit by sending one letter requesting an extension and, in the same instance, submitting a second memo telling European leaders he does not want one.
Asked on ITV's Peston programme whether the idea of sending two letters to the EU was a possible loophole, Ms Leadsom replied: "Absolutely."
Please upgrade your browser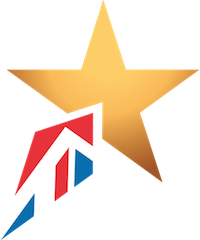 Your guide to Brexit jargon
Use the list below or select a button
function cutsTheMustard() {
return (
document.implementation.hasFeature('http://www.w3.org/TR/SVG11/feature#BasicStructure', '1.1') &&
'querySelector' in document &&
'localStorage' in window &&
'addEventListener' in window
);
}
if (cutsTheMustard()) {
function initEmbed() {
require(['https://news.files.bbci.co.uk/include/newsspec/19077-brexit-glossary/assets/embed/js/embed-init.js?v=1.2.8'], function (initFullFatApplication) {
initFullFatApplication(vjConfigObject['newsspec-19077-brexit-glossary-app']);
});
}
if (typeof require === 'undefined') {
var headTag = document.getElementsByTagName('head')[0],
requireTag = document.createElement('script');
requireTag.type = 'text/javascript';
requireTag.src = 'https://news.files.bbci.co.uk/include/vjassets/js/vendor/require-2.1.20b.min.js';
requireTag.onload = initEmbed;
headTag.appendChild(requireTag);
} else {
initEmbed();
}
}
else if (window.require) {
require(['istats-1'], function (istats) {
istats.log('browser does not cut the mustard',