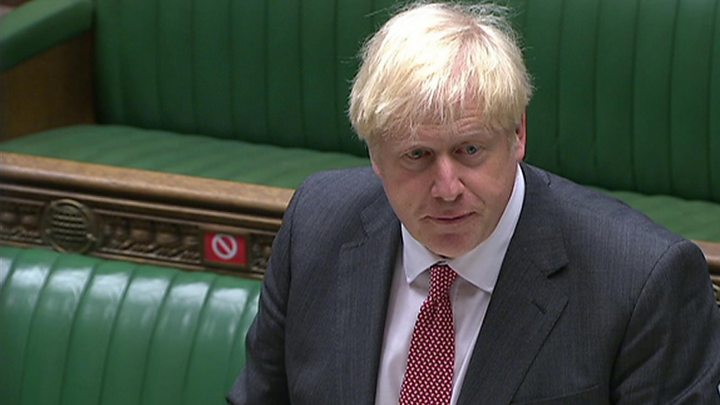 Media playback is unsupported on your device
Media captionBoris Johnson: "I have absolutely no desire to use these measures"
Boris Johnson has said the UK must reserve the right to override the Brexit deal to protect the country's "economic and political integrity".
The PM said legislation was needed to resolve "tensions" in the EU-UK deal.
He said it would ensure the UK could not be "broken up" by a foreign power and the EU was acting in an "extreme way", by threatening food exports.
Labour said the PM had caused the "mess" by reneging on a deal he had previously called a "triumph".
The Internal Market Bill is expected to pass its first parliamentary test later, when MPs vote on it at 22.00 BST, despite the reservations of many MPs that it gives the UK the power to break international law.
A number of Conservative MPs have said they will not support the bill as it stands and some could register their concerns by abstaining.
The UK left the EU on 31 January, having negotiated and signed the withdrawal agreement with the bloc.
A key part of the agreement – which is now an international treaty – was the Northern Ireland Protocol, designed to prevent a hard border returning to the island of Ireland.
The Internal Market Bill proposed by the government would override that part of that agreement when it came to movement of goods between Northern Ireland and Britain and would allow the UK to re-interpret "state aid" rules on subsidies for firms in Northern Ireland, in the event of the two sides not agreeing a future trade deal.
'Protective powers'
Speaking at the start of the five-hour debate, the PM said the bill should be "welcomed by everyone" who cares about the "sovereignty and integrity of the UK".
He said the UK had signed up to the "finely balanced" withdrawal agreement, including the Northern Ireland Protocol, in "good faith" and was committed to honouring its obligations, including the introduction of "light touch" checks on trade between Britain and Northern Ireland.
But he said additional "protective powers" were now necessary to guard against the EU's "proven willingness" to interpret aspects of the agreement in "absurd" ways, "simply to exert leverage" in the trade talks.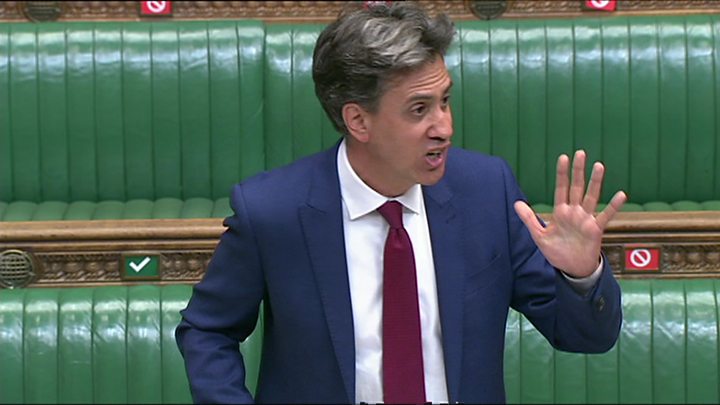 Media playback is unsupported on your device
Media captionEd Miliband says it is not an argument of Leave versus Remain, but "an argument about right versus wrong".
"What we cannot tolerate now is a situation where our EU counterparts seriously believe they have the power to break up our country,"