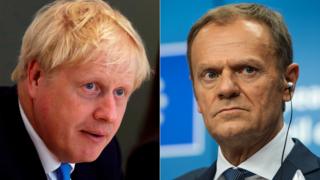 Image copyright Getty Images
Prime Minister Boris Johnson has written to European Council President Donald Tusk, calling for the Irish backstop to be scrapped. BBC Northern Ireland's economic and business editor, John Campbell, and the Reality Check team have been looking at some of the key passages and what they mean.
Boris Johnson's focus here is the backstop. That's the insurance policy – agreed by Theresa May and the European Union (EU) – to avoid a hard Irish border.
It would come into effect after Brexit if the UK and the EU failed to reach a trade deal that would keep the border between Northern Ireland and the Republic of Ireland as open as it is now.
It would keep:
the whole of the UK in a customs union with the EU
Northern Ireland aligned to some rules of the EU single market
Mr Johnson identifies two problems with this.
First, the UK could not unilaterally bring the backstop to an end, unless it could be proven that the EU was acting in bad faith. In March, the attorney general, Geoffrey Cox, concluded if the UK and EU negotiated in good faith but still could not reach an agreement on their long-term relationship, the UK would have "no internationally lawful means" of leaving the backstop without EU agreement.
Secondly, there is the issue of EU single market rules continuing to apply in Northern Ireland. Those rules are set in Brussels, rather than Belfast, meaning Northern Ireland voters would have no direct influence. However, the EU can point to a specialised committee of UK and EU representatives that would be set up to oversee the implementation of the backstop and review cross-border cooperation. Reporting to that committee would be a working group to act as a forum for consultation. And taken together, these arrangements could be interpreted as giving the UK a decision-shaping role in regard to EU rules covered by the backstop.
Theresa May accepted a backstop was needed to protect the Good Friday agreement.
Widely seen as marking the effective end of Northern Ireland's Troubles, the agreement established:
a devolved power-sharing administration
new institutions for cross-border cooperation
structures for improved relations between the British and Irish governments
But Mr Johnson takes a sharply different view from his predecessor. He has accepted the argument, advanced in a series of papers and articles by Lord Trimble and other senior unionists, that the backstop would breach one of the central principles of the Good Friday agreement – there should be no change in Northern Ireland's constitutional status without the consent of a majority of voters.
Nationalists, on the other hand, say this principle applies to a vote on a united Ireland only.