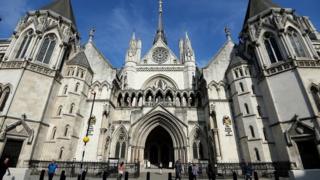 Image copyright PA Image caption The campaigners say it is a "matter of urgency" for the courts to decide
British expats who want Brexit to be halted because of "corrupt practices" during the 2016 referendum are having their case heard in the High Court.
The UK in EU Challenge group says the result should be quashed because of "misconduct" by pro-Leave campaigners.
Both Vote Leave and Leave.EU have been fined for breaches of electoral law.
An earlier attempt to challenge the result was rejected on the grounds that it had not been proven that any wrongdoing affected the vote's outcome.
The case is being brought against the government by four British citizens living on the European continent, Susan Wilson, Elinore Gayson, Carole-Anne Richards and John Shaw.
They say the Article 50 process, by which the UK is leaving the EU, should be halted due to breaches of spending limits and other irregularities by leave-supporting groups during the referendum.
Lawyers for the group say the infractions, which resulted in Vote Leave and Leave.EU being fined £61,000 and £70,000 respectively by the Electoral Commission earlier this year, cast doubt on the legitimacy of the result under the terms of the 1983 Representation of The People Act.
'Proven illegalities'
One of the claimants, Mrs Richards, said the public should be able to rely on the fact that electoral processes are carried out lawfully and "free from corrupt and illegal practices".
"That is clearly not the case here," she said ahead of the hearing.
"Anything that sheds light on what took place, especially where illegalities have been proven, is to be welcomed and should be made available in the public interest."
Image copyright Reuters Image caption Vote Leave have rejected claims they broke the law but have been fined and referred to the police
The campaigners' written arguments were dismissed at a preliminary hearing in September, when Mr Justice Supperstone ruled that the electoral watchdog, in punishing the two leave campaigns, had not established that the referendum result had been "procured by fraud".
The camp