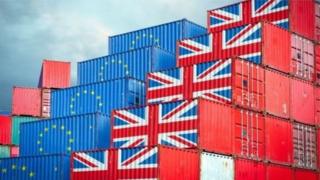 Image copyright Getty Images
A joint UK and EU committee focused on how to implement the Northern Ireland part of the Brexit deal held its first meeting on Thursday.
The specialised committee is made up of government officials rather than politicians.
The UK delegation included senior Stormont official, Andrew McCormick.
The Brexit deal, which was agreed in October, treats Northern Ireland differently from other parts of the UK.
The EU said the meeting took place in "a constructive atmosphere".
The UK said that its approach "will be focused on protecting the Belfast/Good Friday Agreement and gains of the peace process, and on preserving Northern Ireland's place in the UK".
At the end of the transition period on 31 December, Northern Ireland will continue to follow EU rules on agricultural and manufactured goods, while the rest of the UK will not.
Additionally, the whole of the UK will leave the EU's customs union but Northern Ireland will continue to enforce the EU's customs code at its ports.
This will mean some new checks and processes for goods coming into Northern Ireland from other parts of the UK and probably some new administration for goods going the other way.
The UK and EU have yet to agree the nature and extent of the checks on goods after the transition period, with the committee expected to do much of the work on this issue.
'Tangible measures'
The EU remains concerned that the UK is not moving quickly enough to prepare for new ch