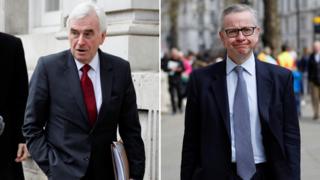 Image copyright Reuters Image caption Michael Gove and John McDonnell are involved in Friday's talks
The government and Labour are continuing talks aimed at breaking the deadlock in Parliament over Brexit.
Cabinet ministers David Lidington and Michael Gove are in discussions with shadow chancellor John McDonnell.
EU leaders have agreed to delay the UK's departure date from 12 April to 31 October, to avoid a no-deal Brexit.
Theresa May has said the UK can still leave before 22 May, if a deal is agreed, to avoid having to take part in elections to the European Parliament.
The UK was originally due to leave the EU on 29 March, but its departure date has been delayed twice because UK MPs have rejected the withdrawal agreement negotiated between the UK and the EU three times.
Under EU rules, the UK will have to hold European Parliament elections in May, or face leaving on 1 June without a deal.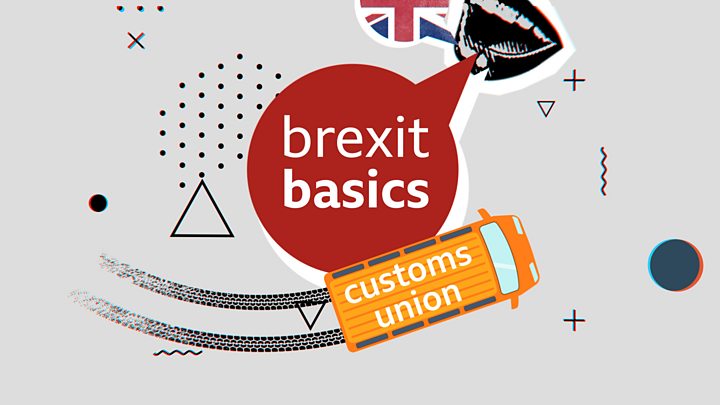 Media playback is unsupported on your device
Media captionConfused by Brexit jargon? Reality Check unpacks the basics.
Conservative Mrs May and Labour leader Jeremy Corbyn had a "short meeting" on Thursday, Labour said.
Arriving at the Cabinet Office for talks on Friday morning, Mr McDonnell, accompanied by members of Mr Corbyn's staff, was asked if he was expecting progress today.
"I hope so," he replied.
BBC political correspondent Iain Watson has been told that the Conservative and Labour delegations have discussed some of the fine detail of the potential changes to the "political declaration" – the non-legally binding part of the Brexit deal, which sets out a blueprint for future relations between the EU and UK.
But he said the two sides were still some way apart on customs arrangements – Labour wants a new permanent customs arrangement with the EU which would allow tariff-free trade in goods.
The government has repeatedly ruled out remaining in the EU's customs union, arguing it would prevent the UK from setting its own trade policy.
Mrs May told MPs on Thursday that cross-party talks were "not the normal way of British politics and it is uncomfortable for many in both government and opposition parties".
She said: "I hope that we can reach an agreement on a single unified approach that we can put to the House for approval, but if we cannot do so soon,