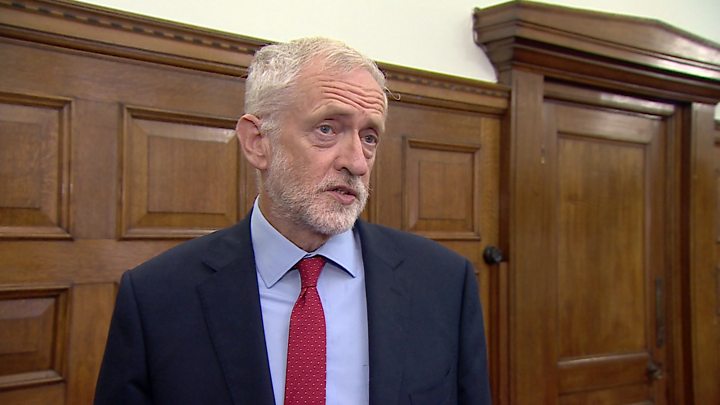 Media playback is unsupported on your device
Media captionThe prime minister "is taking us away from Europe into the arms of Donald Trump", says Jeremy Corbyn
Jeremy Corbyn's plan to prevent a no-deal Brexit by being installed as a caretaker PM has been met with opposition from key potential allies.
If he wins a no-confidence vote in the government, the Labour leader plans to delay Brexit, call a snap election and campaign for another referendum.
The SNP and Plaid Cymru did not rule out supporting a cross-party government to stop a no-deal exit.
But Lib Dem leader Jo Swinson said she would not support making Mr Corbyn PM.
Responding to Mr Corbyn's offer, she said Mr Corbyn's plan was not "viable" because he lacked the required support among opposition MPs in Parliament.
She offered to meet him in the coming days to discuss "who else might be able to lead an emergency government".
Earlier, she suggested Tory MP Ken Clarke or Labour's Harriet Harman could lead such a government aiming to prevent a no deal on the 31 October deadline.
Senior Tory Dame Caroline Spelman, whose backing the Labour leader had also sought, said she would not support a Corbyn-led government.
Prime Minister Boris Johnson said he wants a deal with the European Union, but insists the UK must leave the bloc by the end of October "do or die".
Mr Corbyn asked opposition figures and Tory rebels for their support in a letter on Wednesday, pledging that a government led by him would be "strictly time-limited".
He said he would call a no-confidence vote – which would require majority support – at the "earliest opportunity when we can be confident of success".
If he were to succeed in calling a general election – which would require the support of two-thirds of MPs – Labour would campaign for a second referendum with the option to remain in the EU, he said.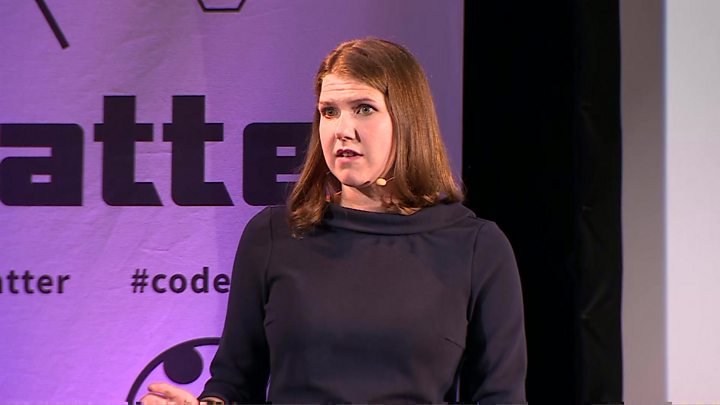 Media playback is unsupported on your device
Media captionSwinson: MPs 'should stand and be counted'
Transport Secretary Grant Shapps warned that Tory MPs "should think very, very carefully about installing Jeremy Corbyn in Downing Street".
"We either have Jeremy Corbyn as prime minister, overturning the result of the referendum, or Boris Johnson respecting the result of the referendum," he added.
But Ms Swinson's rejection of a Corbyn-led emergency government was criticised by Scottish First Minister Nicola Sturgeon.
"Jeremy Corbyn's suggestion is not the only possible option –