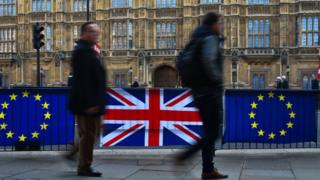 Image copyright Getty Images
Talks between the government and the Labour Party are continuing, as they try to break the Brexit deadlock.
No 10 said ministers had contacted the opposition and "technical" discussions were taking place on Monday evening.
Sources indicated the PM had not accepted Labour's customs union demand, but there was a move towards changing the non-binding political declaration.
Labour leader Jeremy Corbyn said there had been no change in the government's "red lines".
The UK is currently due to leave the EU at 23:00 BST on Friday. So far, MPs have rejected the withdrawal agreement Theresa May reached with other European leaders last year.
She is due to attend an emergency summit in Brussels on Wednesday, where EU leaders will expect to hear fresh plans aimed at ending the impasse in Parliament.
Ahead of this, Mrs May will hold talks with German Chancellor Angela Merkel and French President Emmanuel Macron in Berlin and Paris on Tuesday.
Meanwhile, the House of Lords has passed a bill brought by Labour MP Yvette Cooper, which aims to force the prime minister to request a Brexit extension rather than leave the EU without a deal.
It has returned to the House of Commons for further consideration, with a view to it turning into law.
Commons Leader Andrea Leadsom told MPs that if this happens on Monday evening, there will be a government motion on Tuesday asking the House to approve the PM's request to the EU to delay Brexit until 30 June.
Please upgrade your browser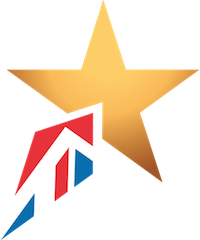 Your guide to Brexit jargon
Use the list below or select a button
function cutsTheMustard() {
return (
document.implementation.hasFeature('http://www.w3.org/TR/SVG11/feature#BasicStructure', '1.1') &&
'querySelector' in document &&
'localStorage' in window &&
'addEventListener' in window
);
}
if (cutsTheMustard()) {
function initEmbed() {
require(['https://news.files.bbci.co.uk/include/newsspec/19077-brexit-glossary/assets/embed/js/embed-init.js?v=1.2.8'], function (initFullFatApplication) {
initFullFatApplication(vjConfigObject['newsspec-19077-brexit-glossary-app']);
});
}
if (typeof require === 'undefined') {
var headTag = document.getElementsByTagName('head')[0],
requireTag = document.createElement('script');
requireTag.type = 'text/javascript';
requireTag.src = 'https://news.files.bbci.co.uk/include/vjassets/js/vendor/require-2.1.20b.min.js';
requireTag.onload = initEmbed;
headTag.appendChild(requireTag);
} else {
initEmbed();
}
}
else if (window.require) {
require(['istats-1'], function (istats) {
istats.log('browser does not cut the mustard', 'newsspec-nonuser');
});
} })();
During the cross-party Downing Street talks, the government reportedly suggested offering Labour a guarantee that any deal they reached could not be undone,