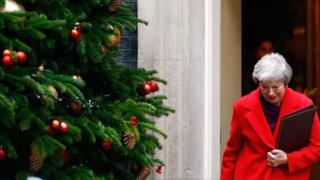 Image copyright Reuters Image caption Theresa May has resisted demands that advice offered by the attorney general on Brexit be made public
Theresa May's Brexit deal does not breach the Good Friday peace agreement, according to legal advice received by the government.
The government has published a summary of the advice after facing pressure from all parties in Parliament.
Some unionists argue the prime minister's deal with the EU would amount to a breach of the agreement.
The government paper says the deal does not "affect the principle of consent or any other provision… in any way".
Speaking in the House of Commons on Monday, the Attorney General Geoffrey Cox said the Brexit backstop was a "calculated risk".
"I do not believe we will be trapped in it permanently," he added.
May's political fight
The Northern Ireland backstop is a last-resort plan designed to prevent a return to a visible Irish border.
It would mean Northern Ireland would stay aligned to some rules of the EU single market if another solution cannot be found by the end of the transition period in December 2020.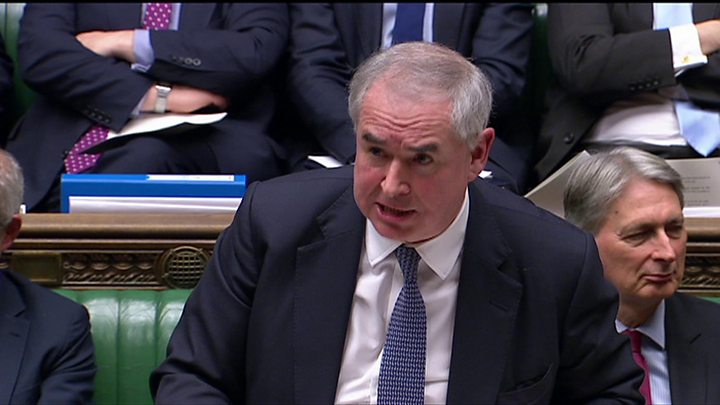 Media playback is unsupported on your device
Media captionCox: Brexit backstop a 'calculated risk' for UK
Five days of debate on the proposed Brexit deal will get under way in the House of Commons on Tuesday.
The prime minister is facing the fight of her political life to get MPs to back the deal in a vote on 11 December.
Boris Johnson, who resigned from the government over the PM's Brexit vision, described the withdrawal agreement arrangement in his weekly Daily Telegraph column as "a great steel trap that is about to clamp its jaws around our hind limbs and prevent our escape".
The DUP's Sammy Wilson said it was important for MPs to know exactly what they are voting for and the implications for Northern Ireland.
Indefinitely tied?
Sinn Féin's Michelle O'Neill said the backstop contained in the EU withdrawal agreement is the only way to protect the 1998 Good Friday Agreement.
She insisted that was the case whatever decision Parliament took on the publication of government legal advice.
Image copyright PA Image caption Colum Eastwood and Michelle O'Neill say the Brexit backstop must remain in the deal
The government has resisted demands that advice offered by the attorney general on Brexit be made public.
SDLP leader Colum Eastwood said that whatever the legal advice, Brexit remained a terrible idea.
He added it was reckless for anyone to maintain there was an alternative to the backstop.