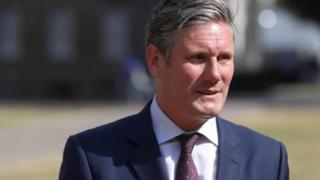 Image copyright Reuters
A new referendum on a final Brexit deal should be "on the table", shadow Brexit secretary Sir Keir Starmer has said.
Sir Keir told BBC Radio 4's Today programme that although Labour is not calling for a second public vote, if MPs reject the deal the PM puts forward, "all options" should be open.
He dismissed comments from colleague Barry Gardiner that a second referendum could cause "civil disobedience".
The government has ruled out another referendum, but some MPs want one.
The UK voted to leave the EU in June 2016, and this is due to happen in March 2019. Negotiations are taking place on what their final relationship will look like.
The government has promised MPs a "meaningful vote" on any deal reached with Brussels – but the People's Vote campaign thinks this should be the subject of a new nationwide referendum.
When asked whether he thought there should be a public vote on the final Brexit deal, Sir Keir said: "I do think there needs to be a democratic check, I don't think the prime minister can simply decide for herself what the future of this country looks like.
"I focused on the vote in Parliament and the meaningful vote. If that vote is to reject the Article 50 deal, Parliament must decide what happens next.
"In those circumstances it seems to me that all options should be on the table…
"I have said that consistently, John McDonnell has said that – that's what the Labour position is."
Skip Twitter post by @BBCr4today
Shadow Brexit Secretary @Keir_Starmer says that "all options should be on the table," including another referendum, if Theresa May's deal is voted down by Parliament #r4Today pic.twitter.com/Tglo945Q0Z
— BBC Radio 4 Today (@BBCr4today) August 23, 2018
End of Twitter post by @BBCr4today
Earlier this week, shadow international trade secretary Mr Gardiner said holding another referendum on the UK's EU membership could lead to "civil disobedience".
He said calls for another vote undermined "the whole principle of democracy in this