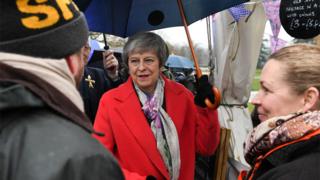 Image copyright Reuters
The government is due to publish its economic analysis on the long-term effects of Brexit on the UK.
Various scenarios will be set out by the Treasury – with the Daily Telegraph saying it will predict £150bn in lost output over 15 years under no deal, with Theresa May's plan costing £40bn.
Meanwhile, the PM will visit Scotland and argue she was "robust" in defending UK fishing in her Brexit talks.
The SNP claims the industry will be "sold out".
The party says access to UK waters for EU boats will be used as a "bargaining chip" to secure a good post-Brexit trade deal.
However, Mrs May will continue to maintain the Brexit withdrawal agreement she has agreed with the EU secures the UK "full sovereign control over our waters" and is the best way to protect the economy.
According to the Daily Telegraph, the Treasury analysis will show that under Mrs May's deal, the UK's GDP will be between 1% and 2% lower over 15 years than if it stayed in the EU, compared with 7.5% lower under a no deal situation.
The Department for Exiting the EU said it does not comment on leaks.
The Telegraph also quotes the former Brexit Secretary Dominic Raab saying the Treasury's analysis "looks like a rehash of Project Fear".
In other developments, the Commons Public Accounts Committee issued a report warning of a "real prospect" of "major disruption" at UK ports in the case of a no-deal Brexit.
MPs are due to vote on Mrs May's Brexit deal, which she insists is the only option, on 11 December.
Against this backdrop, the prime minister is visiting different parts of the UK to engage directly with the public and businesses in a bid to build support for the deal.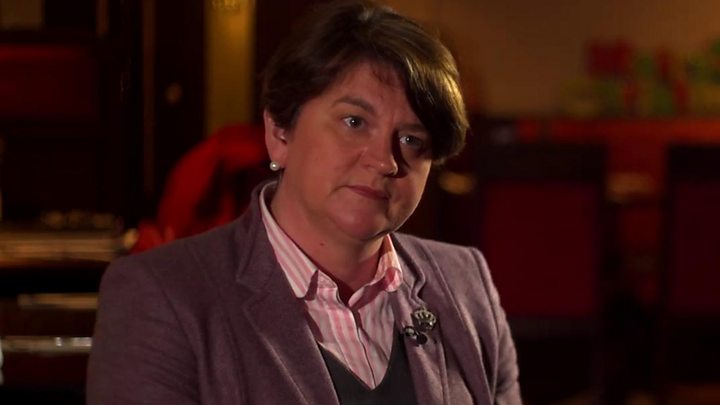 Media playback is unsupported on your device
Media captionFoster: This is not the right deal for Northern Ireland
She insisted it protected the "vital interests" of the whole of the UK when visiting Wales and Northern Ireland on Tuesday, while denying claims from DUP leader Arlene Foster that she had "given up" on negotiations before agreeing the Brexit deal.
'Greater opportunity'
During a visit near Glasgow, Mrs May will speak to factory workers about how she believes her deal provides an "unprecedented economic relationship that no other major economy has" and certainty for employers and their staff.
"We will be free to strike our own trade deals around the world,