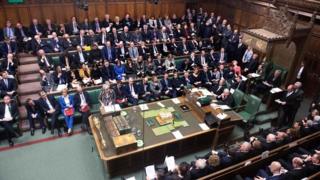 Image copyright Getty Images
Time is ticking towards D-day for Theresa May on 11 December, when the House of Commons will deliver its verdict on her Brexit deal.
Most political observers agree that the prime minister currently does not have the numbers to get it through Parliament. But before any voting takes place, MPs will have to fill five days of debate on the deal, starting on Tuesday.
What will they be debating?
Although MPs can cover all the issues dealt with in Theresa May's deal, technically they will be debating a single – very long – sentence:
That this House approves for the purposes of section 13(1)(b) of the European Union (Withdrawal) Act 2018, the negotiated withdrawal agreement laid before the House on Monday 26 November 2018 with the title 'Agreement on the withdrawal of the United Kingdom of Great Britain and Northern Ireland from the European Union and the European Atomic Energy Community' and the framework for the future relationship laid before the House on Monday 26 November 2018 with the title 'Political Declaration setting out the framework for the future relationship between the European Union and the United Kingdom'.
According to law, the House of Commons has to "approve" this motion before we can proceed to the implementation of the Brexit deal. This complicated sentence fulfils that requirement, but if MPs end up amending/replacing the wording, it may no longer count as "approval".
Crucially, the vote is on both the withdrawal agreement – a legally-binding document that includes the controversial Northern Ireland backstop – and the future political framework, a set of broad ambitions for an EU/UK trade deal.
How much time will they have?
This is ultimately down to MPs themselves, who will be able to debate how to conduct the debate itself.
The government has proposed its preferred procedure, which is likely to be accepted. But two MPs have already tabled an amendment to the business motion, calling for an extension to the debate.
Once the admin is out of the way, there will be an epic five-day session, poring over the nuts and bolts of the government's withdrawal agreement and political declaration of the future relationship with the EU – and it's not a 9-to-5 job.
According to government plans, there will be eight hours of debate a day for the first four days.
But some days in the Commons don't start until mid-afternoon. So on Monday, 10 December, for example, there will be the usual hour of departmental questions before the debate starts around 1530 GMT.
So if you plan on watching to the end of day four,