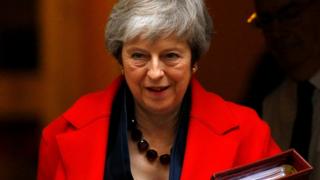 Image copyright REUTERS/Henry Nicholls
Prime Minister Theresa May has accepted the BBC's offer to take part in a debate on Brexit on Sunday 9 December, two days before MPs vote on her deal.
But Labour sources say the party has not yet agreed to take part, with Jeremy Corbyn telling This Morning he preferred ITV's offer.
The BBC said it was "delighted" Mrs May had accepted the offer.
It added it would be discussing debate formats with both parties and would announce further details soon.
Mr Corbyn claimed he preferred ITV's bid because the BBC plan clashed with the final of I'm A Celebrity… Get Me Out Of Here!
"I want to watch it myself," he said.
BBC assistant political editor Norman Smith said the BBC debate would include a panel of people involved in the Brexit debate who would be able to question the two party leaders.
He added Mrs May had accepted the offer "because there was a view on the government's side that the BBC would address the crux of the issue, namely the deal".
It's understood the BBC programme would be held on 9 December at 20:00 GMT in Birmingham.
Skip Twitter post by @NicolaSturgeon
If this or any Brexit TV debate goes ahead without all options – including that of remaining in the EU – being included and given a voice, it will be an absolute travesty of democracy. @BBCNewsPR https://t.co/Na7A01CQQk
— Nicola Sturgeon (@NicolaSturgeon) November 29, 2018
End of Twitter post by @NicolaSturgeon
The SNP, Lib Dems, Plaid Cymru and Greens have demanded to be involved to ensure a range of views is reflected.
Green MP Caroline Lucas tweeted that the debate should include dialogue "about all possible routes forward" – including another referendum.
Lib Dem leader Sir Vince Cable – who has also campaigned for a further referendum – said he was "raring and willing to go" in the TV debate, adding it would be a "travesty" if only Mrs May and Mr Corbyn were involved.
However, Mrs May has rejected calls for