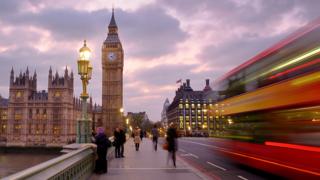 Image copyright Getty Images
Following the Conservatives' decisive general election victory, the UK is leaving the European Union.
But where does the public now stand on Brexit and what do they think it should mean for immigration and the economy?
Do most voters now support Brexit?
Despite the Conservatives' election success, polls conducted during the campaign suggested – as they had done for the last two years – that there was a small but consistent majority in favour of remaining in the EU.
On average, the last half dozen polls before the election put Remain on 53% and Leave on 47%. According to these polls, most Remain (88%) and Leave voters (86%) would vote the same way as in the 2016 referendum. However, those who did not vote in 2016 back Remain by two to one (53% to 26%).
One poll conducted since the election, by BMG Research, suggests opinion has not shifted significantly since the election. It put Remain on 52% and Leave on 48%.
The lead for Remain is too small to be certain that most voters would prefer Brexit was not happening. However, the evidence certainly does suggest the UK remains more or less evenly divided about Brexit.
Immigration and the economy
Two key issues in the 2016 referendum were immigration and the economy. In both cases, Remain and Leave voters still have very different views about what Brexit will mean.
According to research by NatCen, nearly two in five of all voters (38%) think immigration will fall. Just 7% believe it will increase after the UK leaves the EU.
However, nearly half (46%) of those who voted Leave believe immigration will be lower, compared with only 34% of Remain supporters.
These figures have not changed much since the EU referendum.
In contrast, attitudes towards the economic consequences of leaving the EU have shifted. In September 2016, a few months after the EU referendum, under half (45%) said the economy would be worse as a result of Brexit, while 30% believed it would be better.
But in a survey by NatCen during the election campaign, over half (56%) said the economy would be worse as a result of Brexit. Fewer than a quarter (21%) believed it would be better.
However, those who voted Leave are still more likely to say that the economy will be better off (46%) than worse off (21%). In contrast, as many as 84% of Remain supporters believe the economy will be worse off.