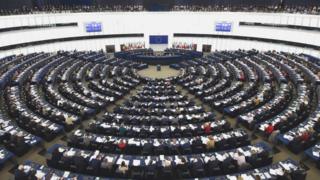 Image copyright Getty Images
It is becoming a key question in this complex Brexit process.
If the UK was to request, or be offered, a lengthy extension of its membership of the European Union (EU), would there be an obligation to take part in May's European elections?
Both the UK government and the European Commission (EC) say that there would; but legal opinion is divided, and many lawyers argue that a satisfactory fix could be found.
The elections are taking place between 23 and 26 May, although the new parliament will not sit, and new members will not be sworn in, until 2 July.
That is why it has been argued that an extension of Article 50 until the end of June would not prove to be a problem.
But what about a much longer extension – potentially as long as 21 months until the end of 2020? That takes the debate into much trickier legal and political territory.
The issue has taken on renewed relevance after the President of the European Council, Donald Tusk, wrote in a tweet that he will appeal to the 27 other EU leaders over the next few days "to be open to a long extension if the UK finds it necessary to rethink its Brexit strategy".
What does the government say?
Theresa May has indicated that she would only favour a "short technical extension" to the UK's EU membership, if that was necessary in order to turn a last-minute agreement into law.
But a longer extension, she told MPs, "would undoubtedly require the United Kingdom to hold European Parliament (EP) elections in May 2019".
And the European Commission agrees?
Yes – as the "guardian of the treaties", the Commission has strong views on this.
In a letter to Mr Tusk on March 11, Jean-Claude Juncker, the European Commission president, said that if the UK is still part of the EU at the end of May "it will be legally required to hold these elections, in line with the rights and obligations of all Member States as set out in the Treaties".
There is no question that the UK would be in breach of those treaty obligations if it failed to hold elections. But how much would that matter, if the UK was on a path out of the EU anyway?
What do others think?
That is an unresolved debate that may eventually have to be tested in court.
A legal opinion issued by the German Bundestag's Europe Department says that Article 50 cannot be extended beyond the end of May unless the UK holds elections. It suggests that the European Commission might choose to begin treaty infringement proceedings against the UK for denying the vote to UK or EU citizens in the UK.