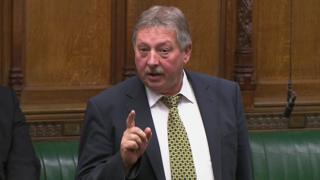 Image caption Sammy Wilson asked the Commons if they were seeing "the start of another U-turn" by the government
The DUP has accused the government of preparing for a Brexit U-turn after the chancellor suggested another referendum would be a "credible proposition".
The DUP has also insisted that it does not support the UK joining a customs union with the EU.
On Wednesday, chief whip Sir Jeffrey Donaldson hinted the DUP might be open to a customs union.
But on Thursday, he criticised "halfway houses" and "staging posts", saying it was not the Brexit people voted for.
Meanwhile, his DUP colleague Sammy Wilson hit out at Chancellor Philip Hammond for suggesting another referendum would be a "credible proposition", before signing off on a deal.
Speaking in the Commons on Thursday, Mr Wilson said: "Are we beginning to see yet the start of another U-turn by a government which has abandoned all of its promises to go forward with a no deal, to have no border down the Irish Sea and to ensure we leave the EU on 29th March?"
Labour has called for a permanent customs union with the EU and is in talks with the government about reaching a compromise.
In a statement on Thursday, Sir Jeffrey called on Prime Minister Theresa May to press the EU for changes to the withdrawal agreement, rather than "subcontract" the negotiations to Labour leader Jeremy Corbyn.
"Whilst the prime minister and her government may consider other options as halfway houses or staging posts, that is not the Brexit which people voted for," he said.
"We will work in Parliament for the referendum result to be properly respected."
The DUP MP added: "It is late in the day, but it is still possible to secure a deal which implements the referendum result and enables the United Kingdom to take back control of its trade, money, laws and borders."
Skip Twitter post by @J_Donaldson_MP
Difficult to move from a position you never held. I merely suggested that the Commons may end up supporting a customs union, perhaps as a staging post, but that does NOT infer that we would support such an option. Indeed I made clear this is NOT our preferred option.
— Jeffrey Donaldson MP (@J_Donaldson_MP) April 4, 2019
End of Twitter post by @J_Donaldson_MP
Late on Wednesday, MPs voted by a majority of one to force the prime minister to ask for an extension to the Brexit process,