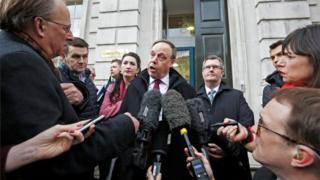 Image copyright Reuters Image caption DUP deputy leader Nigel Dodds speaks to the media outside the Cabinet Office on Friday
The Democratic Unionist Party has said there are "still issues to be discussed" with the government as Theresa May continues to try to win support for her Brexit deal.
Mrs May is expected to bring her withdrawal agreement back to the Commons next week for a third vote.
It comes after MPs this week rejected her deal and voted to delay Brexit.
The DUP, which has twice voted against the agreement, said it remained in discussions with the government.
It has been reported by the Spectator magazine that there is a "better than 50:50 chance" the party will support the deal next week.
A DUP spokesman denied reports that extra money for Northern Ireland had been part of the talks, despite the involvement of Chancellor Philip Hammond in discussions on Friday.
The party has previously voted against the deal over concerns around the Northern Ireland backstop – an insurance policy to maintain an open border in Ireland.
The 10 votes provided by the DUP, which props up the government, are thought to be key to the prime minister securing her deal.
A DUP party spokesman said: "We are in discussions with the government to ensure Northern Ireland is not separated out from the rest of the United Kingdom as we leave the European Union. Contrary to some reports, we are not discussing cash.
"There are still issues to be addressed in our discussions."
'Bad deal rather than no deal'
If the deal fails to gain support, having already been defeated in the Commons by large margins twice, Mrs May has warned a longer extension may be needed, and the UK may have to take part in European elections.
Latvian foreign minister Edgars Rinkevics suggested a delay of up to two years could be required if MPs continue to reject Mrs May's withdrawal agreement.
"Number one priority would be the deal that is reached is passed," he told BBC Radio 4's Today programme.
"If it is not the case, what we need is clear vision from the UK government how much time UK needs to come up with new proposals, new ideas how we proceed.
"In that case it's not a couple of months, I believe then we are talking about maybe one or two years."