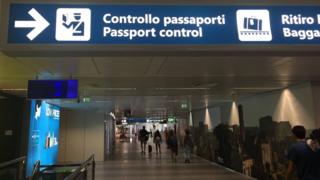 The European Union has agreed in principle that British citizens visiting the EU for short periods after Brexit will not need a visa.
The three-month visa waiver would apply whether or not there is a Brexit deal.
However it would be conditional on the UK granting the same rights to EU citizens in return.
The legislation containing the offer had been delayed over its description of Gibraltar as a "colony".
The European Parliament approved the law on Thursday, meaning it will come into effect once EU states have given it the final sign-off.
The final draft includes the description of Gibraltar as a "colony of the British Crown" in a footnote.
It was backed by a parliamentary committee on Wednesday, after the British MEP piloting its passage through the assembly was replaced.
Labour's Claude Moraes had criticised the description, calling it "opportunistic" and "unnecessary".
He said he had been looking for a compromise over replacing the description but had been forced out of the role after "bullying" from EU states.
His replacement, Bulgarian MEP Sergei Stanishev, also criticised EU states' insistence on the term, which he described as "irresponsible".
But he said the European Parliament also wanted to avoid the need to re-introduce visas, which he said would cause "chaos" for British and EU citizens.
The new legislation would come into effect immediately following a no-deal Brexit, or after the planned transition period if there is a deal.
It would allow trips to the EU and four countries in the passport-free Schengen area for up to three months within any six-month period.
It would mean the UK would j