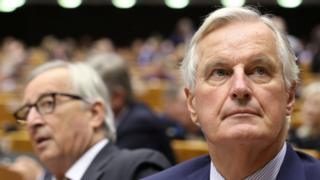 Image copyright Reuters Image caption EU chief negotiator Michel Barnier (r) sat with President of the European Commission Jean-Claude Juncker
EU leaders have pulled apart the UK's Brexit proposals, accusing Boris Johnson of putting forward untested ideas to solve the Irish border crisis.
Chief negotiator Michel Barnier said the EU needed workable solutions "today not tomorrow".
European Commission President Jean-Claude Juncker told MEPs that while he would "not exclude" a deal in the coming days, progress had been limited.
Mr Johnson has said he remains "cautiously optimistic" about a deal.
He will meet his Irish counterpart, Leo Varadkar, on Thursday to try and break the deadlock, while continuing to insist the UK will leave on 31 October with or without an agreement.
In Westminster, meanwhile, a group of Conservative MPs has been demanding assurances from the PM that he will not take the party into the next general election – whenever it comes – on a straightforward promise to leave with no deal.
And earlier, it emerged MPs would be called to Parliament for a special Saturday sitting on 19 October – the day after a crunch EU summit, which is seen as the last chance for a deal ahead of the Halloween deadline.
The UK put forward fresh proposals for a Brexit deal last week, but so far the reaction from the EU has not been encouraging.
Updating MEPs on the state of talks, Mr Barnier said he believed "with goodwill" on both sides there could be an agreement in the run-up to the summit.
But he said "to put things very frankly and to try to be objective, we are not really in a position where we are able to find an agreement".
As it stood, he said, the UK was proposing replacing an "operable, practical and legal solution" to avoid a hard Irish border with "one that is simply a temporary solution".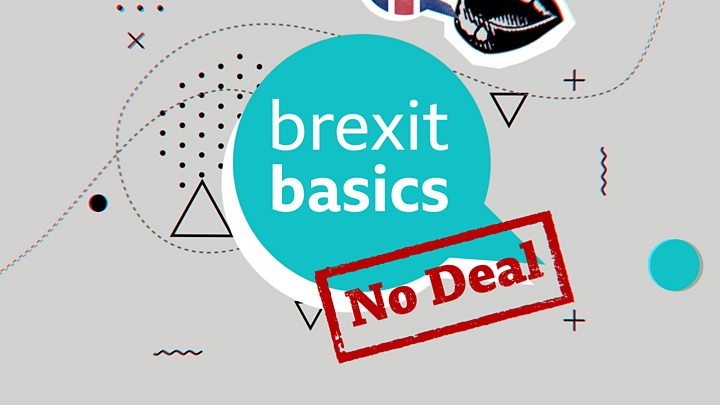 Media playback is unsupported on your device
Media captionConfused by Brexit jargon? Reality Check unpacks the basics
Mr Barnier said the UK's suggested alternative to the Irish backstop – which would see customs checks conducted away from the border at business premises or electronically – "had not been tested" and was "largely based" on exemptions for small businesses and technology that "has yet to be developed".
"We need operational real controls, credible controls, we are talking about the credibility of the single market here – its credulity to consumers, to companies,