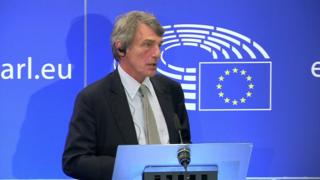 Image caption The President of the European Parliament said revisiting the NI-only backstop was "an act of trust and dialogue"
The EU has said it is willing to revisit the proposal of a Northern Ireland-only backstop to break the Brexit deadlock.
The President of the European Parliament, David Sassoli, said there would be no agreement without a backstop in some form.
But on Wednesday, Prime Minister Boris Johnson ruled out an NI-only backstop.
The UK is due to leave the EU on 31 October without a deal unless both sides can reach a compromise.
Mr Sassoli was speaking at a press conference after talks between the European Parliament's political group leaders and EU chief Brexit negotiator Michel Barnier.
The parliament is not directly negotiating with the UK, but will vote on any final Brexit deal.
UK officials have been in Brussels for meetings this week with Mr Barnier's team.
Image copyright Toby Melville/pa Image caption Boris Johnson says he has an "abundance of proposals" to replace the backstop, but has not given details
Mr Sassoli said "the signals we're getting are not indicating any [UK] initiative that would reopen the negotiations, and we're not happy about that".
He outlined points to be included in a European Parliament resolution on Brexit, to be voted on by MEPs next week.
What is the backstop?
It has proved to be the most contentious part of the Brexit negotiations.
It is the insurance policy to avoid a hard border between Northern Ireland and the Republic of Ireland after Brexit, unless and until another solution is found.
Westminster MPs rejected the backstop and withdrawal agreement negotiated by ex-PM Theresa May, which would have kept all of the UK in a "temporary customs territory" with the EU and would have seen Northern Ireland also continuing to follow other EU rules.
The Democratic Unionists (DUP) had opposed it, saying it would create a border down the Irish Sea and risk the future of the union.
Image copyright Dan Kitwood/getty images Image caption DUP leaders met Mr Johnson on Tuesday as pressure grows on Downing Street to reach a deal with the EU
There had been speculation in recent days that the UK was considering returning to the idea of a Northern Ireland-only backstop, which had originally been proposed by the EU in the early stages of the negotiations in 2017.
The DUP had insisted it and No 10 would not back such a proposal as it would not have "unionist consent"