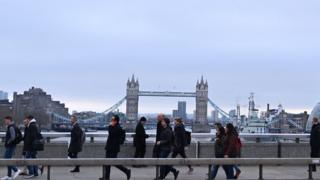 Image copyright Getty Images
The UK might have left the EU but many questions remain unanswered.
Here are just some of the hurdles facing the UK after Brexit.
1. Agreeing a trade deal with the EU
This legal departure from the EU means the UK can finally start formal trade negotiations – both with the EU and countries around the world, like the US.
The government is determined not to extend the post-Brexit transition period – to discuss the future relationship with the EU – beyond the end of 2020. This means the timetable for getting an agreement with the EU is extremely tight.
Formal talks are expected to begin at the end of February 2020, once the remaining 27 EU countries have agreed on instructions for their negotiators.
Getting any agreement finally signed off and put into practice will take a couple of months towards the end of the year. So, realistically, that only leaves time for a fairly basic free trade deal to emerge, with plenty of issues still up for discussion once the transition period is over.