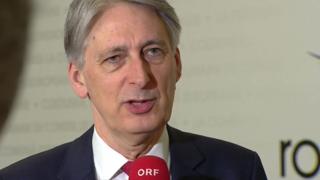 Talks between the government and Labour over the Brexit deal are continuing, Chancellor Philip Hammond has said, and he is "optimistic" that "some form of agreement" can be reached.
Speaking before a meeting of EU finance ministers in Romania, Mr Hammond said there were "no red lines".
He added there was an "open mind".
Labour's Diane Abbott says the government has made "no movement" in the talks on the political declaration, which outlines future UK-EU relations.
The talks, which began on Wednesday, continued on Friday night, Mr Hammond said.
"We are expecting to exchange some more text with the Labour Party today, so this is an ongoing process," he added.
The meetings have been taking place to find a proposal to put to MPs which it is hoped can break the Brexit deadlock in the Commons before an emergency EU summit next week.
Labour has said it wants fundamental changes to the political declaration, which sets out ambitions for the future relationship between the UK and EU after Brexit – including on trade, regulations, security and fishing rights – but does not legally commit either party.
Shadow home secretary Diane Abbott told BBC Radio 4's Today programme that Labour had engaged in the talks "in good faith" and shadow Brexit minister Sir Keir Starmer had written to the government to say he wants them to continue.
However, she said there was concern the government did not want to alter the political declaration.
On Friday, Sir Keir said ministers were not "countenancing any change" to the "actual wording".
"We do need change if we're going to compromise," he said.
Mr Hammond told reporters in Bucharest: ""We should complete the process in Parliament… but we should be open to listen to suggestions that others have made.
"Some people in the Labour Party are making other suggestions to us. Of course, we have to be prepared to discuss them… in a constructive fashion."
Earlier, a Downing Street spokesman had said "serious proposals" were made and it was "prepared to pursue changes to the political declaration in order to deliver a deal that is acceptable to both sides".
BBC political editor Laura Kuenssberg said: "The sense is that the government has only offered clarifications on what might be possible from the existing documents, rather than adjusting any of their actual proposals in the two documents."
She added that both sides agreed the talks are not yet over, but there were no firm commitments for when further discussions might take place.