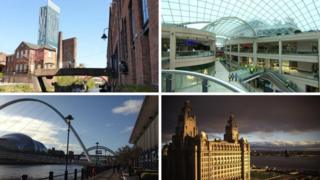 Image caption The Northern Powerhouse aims to encourage growth outside London and South East England
Brexit "chaos" is preventing the north of England from realising its real potential, according to a think-tank.
The Institute of Public Policy Research North said the Northern Powerhouse has been "deprioritised" by government.
Its "State of the North 2018" report said for the Northern Powerhouse agenda to succeed, leaders in the North should wrest control from Whitehall.
The government said it was investing billions in the North, which has "a powerful voice" with its metro mayors.
According to the report by the centre-left think-tank:
Weekly pay has fallen by £21 in the north of England since 2008 in real terms
Public spending in the region has fallen by £6.3bn in real terms since 2009-10
Two million working age adults and one million children in the north of England live in poverty
Some of the lowest life expectancies are found in northern neighbourhoods
Report author Luke Raikes said: "The Government is so consumed by Westminster's Brexit chaos that it has deprioritised the Northern Powerhouse agenda at the very time it is needed most. This cannot continue.
"All our regional economies face severe challenges – including London's. Brexit threatens to make this much worse and the Northern Powerhouse agenda is the best chance we have of fixing this national economic crisis. In the national interest, the North needs to thrive.
"The best way to take this important agenda forward is for the North to take the lead. The next phase of the Northern Powerhouse must be of the North, by the North, for the North".
The report set out five priorities the institute said were necessary for the Northern Powerhouse to move from its original form as announced by former chancellor George Osborne.
Image copyright PA Image caption George Osborne was at the heart of the creation of the Northern Powerhouse when he was Chancellor – he is now editor of the London Evening Standard
Among the priorities are calls for the Northern Powerhouse to focus on the "whole North" rather than creating a "London-style megaregion" around Manchester and other large cities.
The report called for investment not just in transport but also in skills and social infrastructure.
Dan Jarvis MP, Mayor of the Sheffield City Region, said: "As leaders in the North, we know that by working together we can be more than the sum of our parts.
"Power and resources must be devolved to the right level, in order to enable those who know their regions best to invest money where it is most needed and drive prosperity for all."