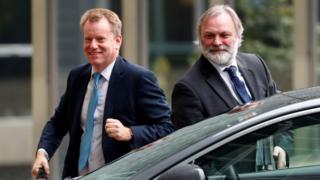 Image copyright Reuters Image caption Boris Johnson's Europe adviser, David Frost, has been in Brussels for talks this week
EU officials say the UK is "dancing around the issues" in talks in Brussels on a Brexit deal.
Boris Johnson's government is seeking to renegotiate the withdrawal deal agreed by his predecessor, Theresa May, but discussions so far have been at a very general level.
The EU maintains the text of the withdrawal agreement is closed but it is still listening.
"The UK wants a less involved relationship," says one EU source close to the talks, "but it's not clear what that means in practice."
The prime minister's Brexit envoy, David Frost, is back in Brussels this week for further talks but time is running short.
UK officials say criticism of their approach, from the EU side, is unfair.
"We're having conversations this week which pick up on last week's discussions," one official says, "and we've agreed where to focus talks in the future."
Image copyright Reuters Image caption Mr Johnson has been meeting other European leaders, including Angela Merkel
"Let's get this done," is the message from Mr Johnson and he has been meeting, and will continue to meet, other EU leaders. But there's no sign any country is breaking ranks to negotiate separately with the UK.
That means the focus is still in Brussels.
So far this week, the UK side says it has presented ideas on customs and manufactured goods, while there has been further discussion on the non-binding political declaration which sits alongside the withdrawal agreement and outlines the future relationship between the two sides.
But while the government says progress is being made, the EU insists no formal proposals have been tabled.
"We want to keep this going," an EU source says. "But at some point the UK needs to give us a proposal. We can't negotiate without one."
Irish backstop
Both sides say the UK has asked for the protocol on Ireland to be stripped back pretty radically – to remove the backstop designed to keep the border between the Irish Republic and Northern Ireland as open as it is now under all future circumstances.
The EU has always said it is open to an alternative plan to guarantee an open border – but at the moment it doesn't think there is one.
The idea of an all-Ireland zone for food and animals (in which the Republic of Ireland and Northern Ireland would follow the same rules after Brexit) has been explored and officials say the UK has presented "preliminary ideas"