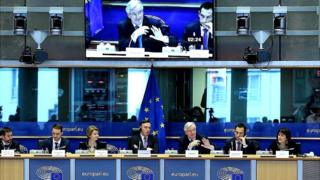 Image copyright Getty Images
Theresa May has requested a Brexit extension to the end of June and preparations have started to take part in the European elections on 23 May.
Although the prime minister hopes to get a deal through the UK Parliament before that date, she accepts – reluctantly – that if the UK remains in the European Union (EU) after the deadline, it must hold elections to the European Parliament.
What is the European Parliament?
The European Parliament is directly elected by EU voters.
It is responsible, along with the Council of Ministers from member states, for making laws and approving budgets.
It also plays a role in the EU's relations with other countries, including those wishing to join the bloc.
Its members represent the interests of different countries and different regions within the EU.
How are its members elected?
Every five years, EU countries go to the polls to elect members of the European Parliament (MEPs).
Each country is allocated a set number of seats, roughly depending on the size of its population. The smallest, Malta (population: around half a million) has six members sitting in the European Parliament while the largest, Germany (population: 82 million) has 96.
At the moment there are 751 MEPs in total and the UK has 73.
Candidates can stand as individuals or they can stand as representatives of one of the UK's political parties.
Once elected, they represent different regions of the country, again according to population. The north-east of England and Northern Ireland have three MEPs each while the south-east of England, including London, has 18.
While most UK MEPs are also members of a national party, once in the European Parliament they sit in one of eight political groups which include MEPs from across the EU who share the same political affiliation.
Member states can run elections to the European Parliament according to their own national laws and traditions, but they must stick to some common rules. MEPs must be elected using a system of proportional representation – so, for example, a party which gains a third of the votes wins a third of the seats.
Turnout in the UK for European Parliament elections is low both by EU standards and by the standards of other UK elections.
The last time they were held in 2014, 36% of those eligible to vote did so, compared with 43% in the EU as a whole.
That compares with 66% turnout at the following year's general election.