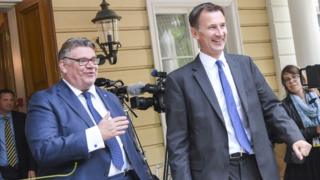 Image copyright EPA Image caption Jeremy Hunt held talks with Finnish counterpart Timo Soini.
Jeremy Hunt has told the EU it faces a "strategic choice" about whether to strike a mutually beneficial deal with the UK.
The foreign secretary is in Helsinki to discuss the UK's Brexit plan at the start of a three-day tour also taking in Latvia, Denmark and the Netherlands.
Mr Hunt said time was "at the point" to move negotiations forward, adding: "We need to take that opportunity."
The EU has said there are obstacles to meeting an October agreement deadline.
Last month, chief negotiator Michel Barnier ruled out allowing the UK to collect customs duties on the EU's behalf, a key UK proposal for post-Brexit trade.
Government ministers say they want to reach a deal with the EU covering issues like trade and border checks, but are also making contingency plans to prepare for leaving with no agreement in place.
Mr Hunt told reporters ahead of his meeting in Finland on Tuesday: "We want to safeguard our operational capacity as we leave the EU, and so we have put forward precise, credible proposals that ensure our ability to act is maintained.
"We are now at the point where the EU also faces strategic choices: with the option to move the negotiations forward and achieve a deal that works in our mutual interests.
"My simple message is that we need to take that opportunity."
The foreign secretary has previously warned of a "very real risk of a B