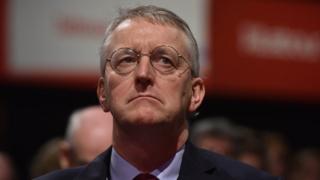 Image caption Hilary Benn tabled the amendment attempting to block a "no deal" scenario
Labour are backing a cross-party bid to ensure the UK cannot leave the EU without a deal.
Shadow Brexit secretary Sir Keir Starmer said the amendment to 11 December's Commons vote on the PM's Brexit deal had his "full support".
If MPs back the amendment it will not be binding but Theresa May would find it difficult to ignore.
And it could put Parliament in the driving seat if, as expected, MPs vote down the PM's Brexit deal.
Mrs May has repeatedly warned MPs that the only alternative to her Brexit deal is quitting the EU without a deal on 29 March.
The vast majority of Labour MPs are expected to vote against the deal on 11 December. However, a source has told the BBC there is a "growing consensus" among all MPs against a "no-deal" Brexit.
Labour leader Jeremy Corbyn told ITV's This Morning on Thursday that "nobody is going to allow no deal".
The amendment, tabled by Labour backbencher and chairman of the Brexit select committee, Hilary Benn, is understood to have support from Conservative, Labour, SNP, Liberal Democrat, Plaid Cymru and Green politicians.
Labour MP Yvette Cooper said the amendment would allow MPs to "properly debate and vote on the next steps, rather than just leaving it all" to the prime minister.
The BBC's Laura Kuenssberg says it supports what "some in Number 10 suspect – that is vote falls, Parliament essentially takes over from the executive".
Image Copyright @bbclaurak @bbclaurak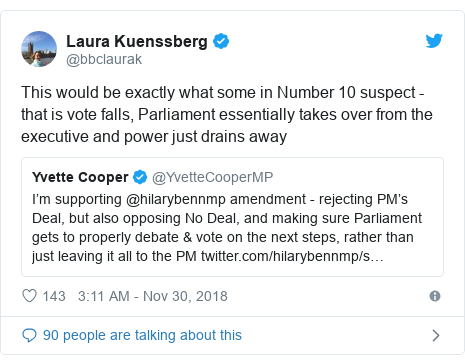 Image Copyright @bbclaurak @bbclaurak
Report
Former Labour foreign secretary Jack Straw described the amendment as "a staging post" on the way to a further referendum.
Mr Straw, who was one of the Labour more Eurosceptic voices, says he believes there would be "a huge appetite" for a public vote.
A dilemma for the People's Vote
By BBC political correspondent Chris Mason
Enter the four doctors.
A cross party quartet, pondering strategy, talking tactics.
They want another referendum – what campaigners call a People's Vote. So who are they?
Labour's Dr Paul Williams, Conservative GPs turned MPs Philip Lee and Sarah Wollaston, and the SNP's Dr Eilidh Whiteford.
Messages are zipping between them, trying to work out whether it is worth putting down an amendment to the big Brexit vote in Parliament, so MPs can express their support for another referendum.