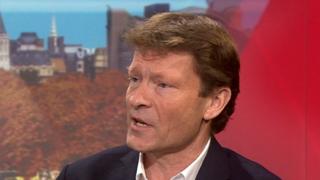 The head of a pro-Brexit campaign has said it is preparing for another EU referendum.
Richard Tice, of Leave Means Leave, said he could see Theresa May calling such a vote "within a fortnight".
"We think it is 50/50 that it will happen", he told the BBC's Politics Live, but his campaign had hired office space and was raising funds.
He said the campaign's "core message" would be that the PM's Brexit deal is a "total betrayal of trust in democracy".
Theresa May has consistently rejected calls from Remain-supporters for a further referendum on her EU withdrawal agreement.
But with MPs looking set to reject it in a vote on Tuesday, there is likely to be an attempt by MPs in the pro-Remain People's Vote campaign to force it to the top of agenda.
Mr Tice told BBC Politics Live: "It would be brutal, it would be ugly, it would be the most divisive thing this country has ever seen but I regret to say we are preparing for it."
But he said his campaign was ready to fight a referendum because politicians at Westminster were "not carrying out the will of the people".
As for the question on the ballot paper – likely to be the focus of intense debate – he said it "cannot be Remain or the prime m