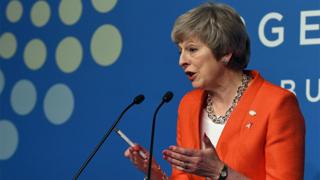 Image copyright PA
Opposition parties plan to join forces in a bid to force the government to publish the full legal advice it received ahead of the Brexit agreement.
"All parties" would press for contempt of Parliament proceedings if MPs are not shown the advice, Labour's Brexit spokesman Sir Keir Starmer has said.
Theresa May has promised MPs only a "reasoned statement" on the legalities.
Many Brexiteers believe the Northern Ireland "backstop" provision offers the EU an effective veto on the UK leaving.
Mrs May insists the agreement's legal text is clear that any backstop – keeping the UK under EU customs rules until a permanent trade deal was in place – would be temporary.
However, her former Brexit secretary Dominic Raab told the Sunday Times the backstop would last indefinitely – for as long as it takes to negotiate a new UK-EU relationship – "unless the EU allows us to exit".
"The EU has a clear veto, even if the future negotiations stretch on for many years, or even if they break down and there is no realistic likelihood of us reaching agreement," he is quoted as saying.
"That's my view as a former international lawyer, but it is consistent if not identical with all the formal advice I received."
The prime minister's refusal to release the full advice prompted Northern Ireland's Democratic Unionist Party – which has propped up Mrs May's government since the general election in 2017 – to accuse her of having "something to hide".
Ministers insist it is a long-standing convention that legal advice to the cabinet is kept confidential, and that government would otherwise be unable to function.
The row comes ahead of a crucial week for Mrs May, who faces opposition to her Brexit agreement from all sides of the Commons, with MPs due to vote on 11 December.
She spent much of last week trying to sell the deal to business people and the wider public, visiting Wales, Northern Ireland and Scotland.
And at the weekend she sought to reassure world leaders that the deal would be "good for the global economy", when speaking at the G20 summit of the world's most industrialised nations in Argentina.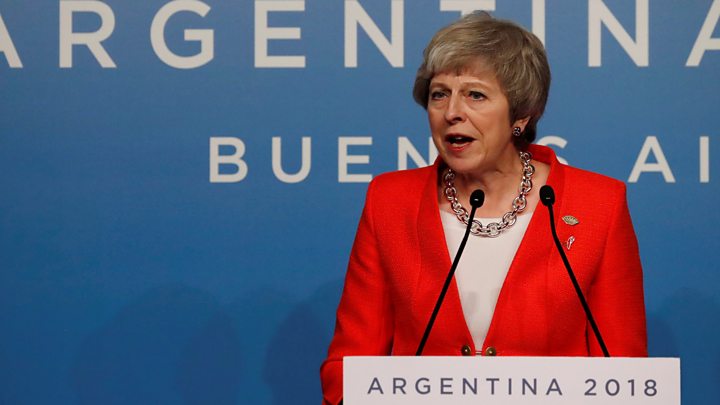 Media playback is unsupported on your device
Media captionAsked about the legacy she'd like to leave as PM, Mrs May says there's "a lot more for me still to do".
On Saturday Mrs May lost science minister Sam Gyimah –